Kootenay Concert Connections Presents
Brett Kissel
We Were That Song Tour 2018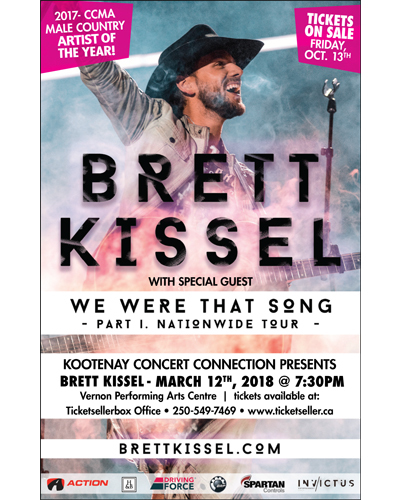 $49.50 All Seats
BRETT KISSEL ANNOUNCES 'WE WERE THAT SONG' CROSS-CANADA TOUR 2018

Brett Kissel - the CCMA Awards' reigning Male Country Artist of the Year - has announced a three-month Canadian tour beginning in January... The Vernon show is slated for the Vernon Performing Arts Centre on March 12th/2018 at 7;30 p.m.Tickets will be available for sale Friday Oct 13th at the Ticketseller Box office or by calling 250-549-7469 or online at www.ticketseller.ca.

Last month at the CCMA Awards in Saskatoon, Brett premiered his new single "We Were That Song" with a show-stopping performance live on the nationwide broadcast. Watch the music video for the song here.

In addition to his second straight Male Artist of the Year win, Brett was also awarded Music Video of the Year and Interactive Artist of the Year, bringing his career tally to 10 CCMA Award wins.

"We Were That Song" is the first track to be released from Brett's forthcoming third major label studio album. More information on the new album will be released in the coming weeks.

The " We Were That Song" Tour is a presentation of the Kootenay Concert Connection.