That Never Happened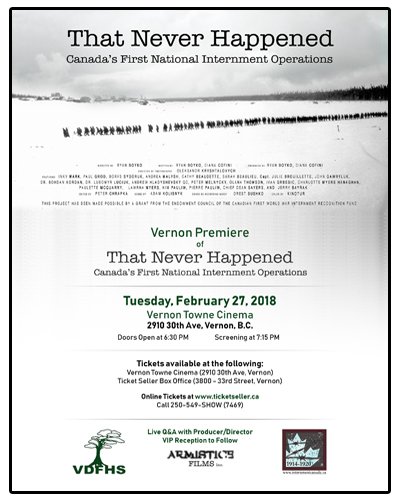 $25 All Seats
The multi-award-winning documentary, That Never Happened: Canada's First National Internment Operations, will have its Vernon premiere at the Vernon Towne Cinema on Tuesday, February 27, 2018.
The documentary, Directed by Ryan Boyko and produced by Armistice Films Inc., recounts the forced internment of thousands of Ukrainians and other Europeans from 1914-1920. Canadian law enforcement authorities targeted them, not for anything they had done but simply because of who they were and where they came from.
The Vernon Premiere, is being presented by the Vernon & District Family History Society. There will be a Q & A opportunity after the film with Producer/Director, Ryan Boyko followed by a VIP Wine and Cheese reception. (All included in the ticket price.)
The Film reveals how public records were destroyed in 1954. Three decades later, researchers began the task of stitching together the story of this dark chapter in Canadian history.
That Never Happened has met with critical acclaim at film festivals across North America. It has garnered 1 nomination and 6 Awards: 4 Awards in the Best Documentary category, 1 Award of Merit and THE PEOPLE'S CHOICE AWARD at the Bay Street Film Festival.
Tickets to the Vernon Premiere of That Never Happened will sell out. Get your tickets today.
To view the trailer, please CLICK HERE That Never Happened
For more information: Contact malysh@internmentcanada.ca or info@armisticefilms.com
Twitter @ArmisticeFilms Facebook.com/ArmisticeFilmsThat Never Happened #WW1 #FilmsThatMatter #Canada150#Documentary
Doors open at 6:30pm Screening at 7:15pm.