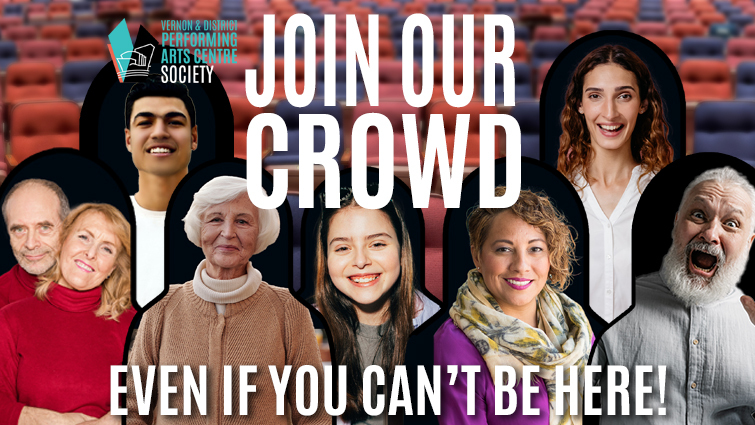 Audience Cut-Out Fundraiser
JOIN Our Crowd!-Even when you can't be here!
VDPAC's ultra-fun "Audience Cut-Outs" promotion is an invitation to our beloved patrons, subscribers, guests and sponsors ready to return to the theatre, (or not quite yet!), to help support our safe return to live performances—while helping us to rebuild our Bursary Program fund at the same time!

How?
For your tax deductible donation, whether a concert enthusiast or an area business owner, you can show your support with a life-size, 2-D version of yourself as a member of our "crowd" of Audience Cut-Outs that will be placed throughout the theatre to help ensure our live patrons are safely spaced.

Businesses as "Sponsors" can also have your corporate logo added for only $15.00 more.

At recent 50% capacity restrictions, only 375 seats are available for Cut-Outs on a 'first come, first served' basis. Don't miss out!
Come See for Yourself!
Special "Thanks!" to WAYSIDE for donating our Cut-Out samples!
You can drop-in at the VDPAC during regular work hours, 9:00am – 5:00pm, Monday to Friday, and see our Audience Cut-Out samples display, right here in our main foyer.

Proceeds?
Help support the return of VDPAC's SPOTLIGHT & Community Outreach programming, with 50% of net proceeds to benefit VDPAC's popular Bursary Program for area students pursuing post-secondary education in the Performing Arts, (Visit: vdpac.ca/about-the-society/bursary-program)
How to Order:
Click the "Donate Now" button below; THEN choose the "Public" ($85) or "Sponsor" ($100) donation button to order your Cut-Out;
Complete the simple, secure credit card Payment form;
For any assistance, contact Ticket Seller at: 250-549-SHOW (7469);
You will receive a receipt by email from VDPAC's Ticket Seller box office,
including a special Cut-Out email address for submitting online your Cut-Out Photo (& as a Sponsor, your high res corporate logo);
Your Cut-Out photo must be submitted within 48-hrs of your emailed receipt, (for production considerations—AND so we can "grow" our Cut-Out Audience!);
Your Cut-Out may be claimed from VDPAC once we return to full-capacity, "3-D" audiences. Watch for announcements!
VDPAC will issue all official tax receipts in early-January 2022.
THANK YOU FOR YOUR SUPPORT!
TIPS FOR TAKING YOUR BEST PHOTO

How to Take Your Cut Out Photo
Photo resolution from most smart phones is acceptable
Choose a place with good indoor lighting
Clothing? Yes, please! (But NO commercial branding)*
No selfies! Ask a friend to take your Cut-Out photo, from 4-feet away
(Standing pose, from waist-up including the top of your head, facing the camera, hands at your sides, OR clasped in front of you as if to applaud)
Be happy! (You're back 'in' the theatre!)
Couples photos are allowed, (Standing pose, cheek-to-cheek, facing the camera as above)
"Sponsor" Cut-Outs can have your uploaded, full-colour high res corporate logo added, centered in the lower-half of your Cut-Out, (See WAYSIDE sample)* Sponsors: Your own branded corporate apparel is OK!
VDPAC logo & Thank You! Will be added to the bottom of all Audience Cut- Outs to publicly recognize your generous support!
Please Note:

VDPAC reserves the right to reject any unusable photos & request an alternative, (ie. poor resolution, unusable poses or inappropriate facial expressions, cut-off tops of heads, etc); and also to place or move Audience Cut-Outs in theatre seating in accordance with any events seating plan to maximize physical spacing of live audience members--in keeping with Public Health Orders regarding "indoor public gatherings".
Thank You for your Support!

Join us for our upcoming live events and watch our Audience Cut-Outs crowd 'grow' and help fill the other 50% of seats we're not allowed to—just yet!



For more information, contact:

Camillia Courts, Marketing Director

[email protected]