Vernon Proms Classical Music Festival
7-8 concerts - 25% off
5-6 concerts - 15% off
3-4 concerts - 10% off
To get multi concert discounts, you must call the Ticket Seller Box Office to get the discounts.
250-549-7469 (SHOW)
Season Events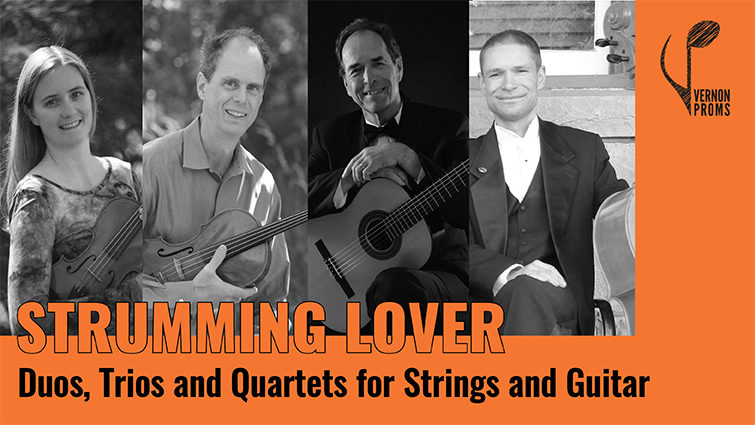 Vernon Proms Classical Music Festival
Strumming Lover
Music for strings & classical guitar with Chitarra da Camera Ensemble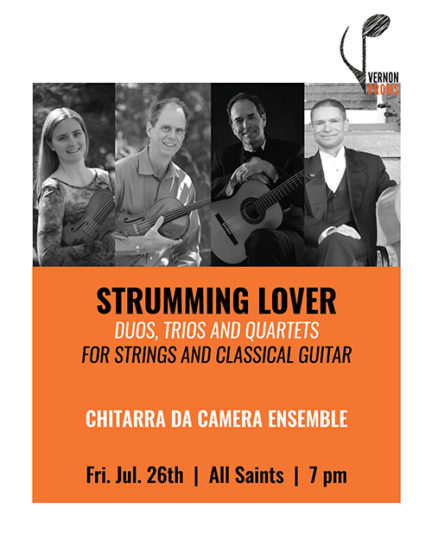 $22.00 Adult
$18.00 Senior/Student
The newly formed Chitarra da Camera Ensemble featuring accomplished local performers Martin Krátký, cello, Sandra Wilmot, violin, Ashley Kroecher, violin and Alan Rinehart, guitar are dedicated to exploring the chamber music repertoire that uses the guitar as an integral part of the group. The early part of the 19th century was a particularly rich period for such repertoire.
PROGRAM
F.J. Haydn: Quartet in D
N. Paganini: Sonata
Erik Marchelie: Eclipse (1993-94) Erik Marchelie
Francois de Fossa: Trio Concertante op. 18 #1
Antonio Vivaldi: Concerto in D
N. Paganini: Terzetto
J.J.F.Dotzauer: Pot-pourri
Franz Schubert: Quartet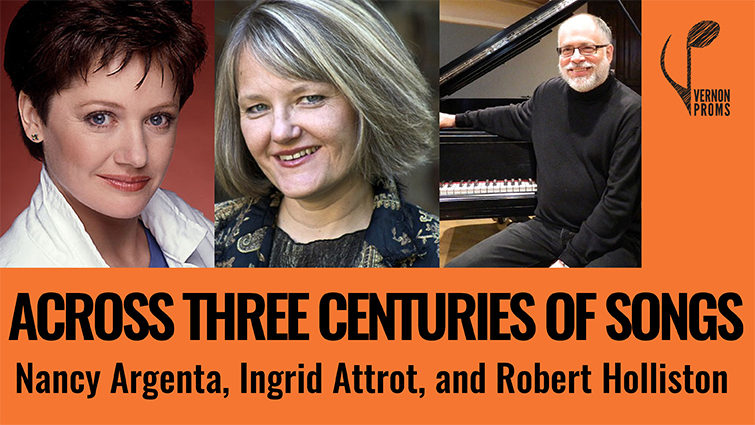 Vernon Proms Classical Music Festival
Across Three Centuries of Songs
Nancy Argenta, Ingrid Attrot and Robert Holliston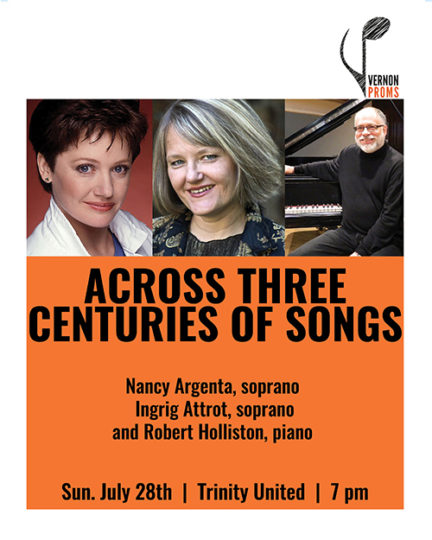 $35.00 Adult
$30.00 Senior/Student
Enjoy a mix of Purcell's solos and duets, duets by Mendelssohn and Brahms, a gorgeous set of English folksongs that were arranged especially for Nancy and Ingrid by an English composer and friend, and more.

Nancy Argenta is one of Canada's most famous and important singers.With a repertoire spanning three centuries, Nancy Argenta has been hailed not only as the supreme Handel soprano of our age but also for her performances of works by such diverse composers as Mahler, Mozart, Schubert and Schoenberg. Conductors with whom she has collaborated include Ozawa, Gardiner, Davis, Blomstedt, Pinnock, Hogwood and Norrington. She has sung with the Philharmonia Orchestra, the Boston Symphony, the City of Birmingham Symphony Orchestra, the Leipzig Gewandhaus, and the Toronto,
Montreal, and Sydney Symphony Orchestras. In opera, concert and recital, she has appeared at many leading festivals including Aix-en-Provence,
Salzburg, Mostly Mozart, and the BBC Proms. Her discography of over 50 recordings includes Bach's St. John's Passion, Mass in B Minor, Magnificat and Christmas Oratorio (Gardiner), Purcell's King Arthur (Pinnock), and Mozart's Requiem, Magic Flute, and Don Giovanni (Norrington).
An EMI/Virgin Solo Artist she has recorded Schubert Lieder, Scarlatti Cantatas, two discs of Bach Solo Cantatas as well as two of Purcell songs, the first of which O Solitude, was honoured with a Classic CD award. Asa devotee of the song repertoire of all periods, Ms. Argenta tours widely as a recitalist, presenting songs with original keyboard accompaniment of harpsichord, fortepiano, or modern piano. As well as teaching privately since 1986, Nancy was on the faculty of the Guildhall School of Music and Drama (London) from 1994-2003, and has given classes in Germany, Japan, Israel, England, Spain and Canada. She holds a Bachelor of Music degree (Performance) from the University of Western Ontario and has trained in advanced pedagogy with Dr. Meribeth Bunch. She is Co-artistic director of Nelson Courses for Singers. As a teacher her priorities are a free and natural sounding technique and a straightforward and heartfelt delivery of music and text. Hailed as 'a singer with uncommon theatrical sensibility and musical intelligence', soprano Ingrid Attrot has appeared with the London Symphony Orchestra, the City of Birmingham Symphony Orchestra, the Montreal Symphony, and the Los Angeles Chamber Orchestra with conductors such as Dutoit, Marriner, Willcocks, Pinnok and Hickox. Her work with conductor Richard Hickox has included performances of the Britten War Requiem, Peter Grimes (Ellen Orford), and Beethoven's Fidelio (Leonora). Opera companies with which she has worked include the English National Opera (as Miss Jessel in Turn of the Screw), Opera Northern Ireland (as Donna Anna in Don Giovanni), and Pacific Opera (as Abigaille in Nabucco and Fiordiligi in Cosi Fan Tutte).

Ingrid has recorded extensively for the Chandos label, including Respighi's Deità Silvane and Stanford's Stabat Mater, both with the BBC Philharmonic, Vaughan Williams' Riders to the Sea, Holst's The Wandering Scholar with the Northern Sinfonia (Hickox), Vivaldi's Gloria with The English Consort (Pinnock) and Handel's Floridante with Tafelmusik (Curtis).

Her particular affinity for contemporary repertoire was first recognized by her winning of the Eckhardt-Gramatte Competition. This led to many collaborations with composers such as Peter Maxwell Davies, Geoffrey Burgon, Hugh Wood, Nicola LeFanu, Julian Philips and John Greer. She has sung in major festivals including the Salzburg Festival, the Warsaw Autumn Festival, the Holland Festival in Amsterdam and the BBC Proms. In recital she has appeared at the Concertgebauw (Amsterdam), Le Monnaie (Brussels), Royal Opera House (London), and at the Wigmore Hall (London).

From 2003-2007, she was the Artistic Director of the "Summer Music on the Shannon" Youth Opera Theatre at the University of Limerick, Ireland. She was Music Director for Out of the Box Productions, 2004-2006, and is Co-artistic Director of Nelson Courses for Singers. Ingrid is head of the voice department of Victoria Conservatory of Music, Opera Studio, and Director of the Voice Collegium program.

Robert Holliston studied at the Victoria Conservatory of Music under Robin Wood and Winifred Scott Wood, and at the University of British Columbia under Robert Rogers. As an accompanist and chamber player he has performed throughout Canada and the USA, England and New Zealand, and
has been heard frequently on CBC-Radio. He has recorded CDs with the popular salon ensemble Viveza, trombonist Ian McDougall, tenor Ken Lavigne, his brother Tom Holliston, Show Business Giants, and members of the Hornby Island Ensemble.

Robert has collaborated with many of Canada's leading singers, including Richard Margison, Benjamin Butterfield, Judith Forst, Nathalie Paulin, Susan Platts, Peter Barcza, and fellow VCM faculty members; string players Eugene Fodor, Moshe Hammer, Marc Destrubé, Jonathan Crow, and Paul Marleyn; and (with Viveza) dancers Karen Kain and Evelyn Hart. A popular public speaker, Robert hasgiven pre-performance lectures for Pacific Opera Victoria since 1993 and is POV's Principal Coach.

Still an active performer, Robert is currently Head of Keyboard at the Victoria Conservatory of Music, where he also teaches piano and music history and acts as vocal coach. Robert was a founding director of the VCM Opera Studio.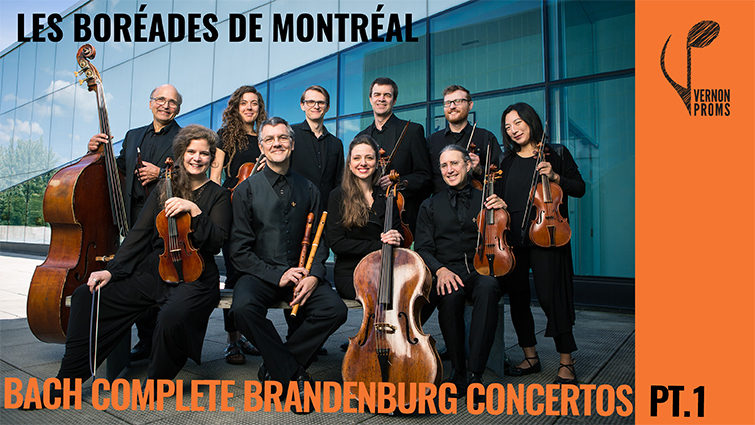 Vernon Proms Classical Music Festival
Bach Complete Brandenburg Concertos Pt.1
Les Boréades de Montréal co-present. with Early Music Vancouver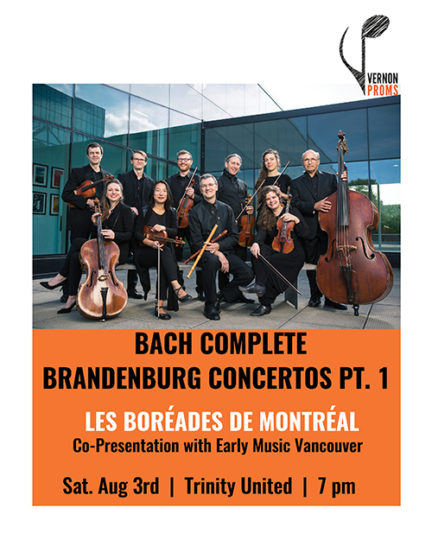 $40.00 Adult
$35.00 Senior/Student
Could there be a more perfect collection of concertos than the six Brandenburgs? Dazzlingly inventive, virtuosic, exuberant, inspired. And experiencing them performed—as they were meant to be heard on period instruments with Les Boreades' star-studded cast of principals as the soloists is priceless!
PROGRAMME
All works by J.S. Bach
Brandenburg Concertos
No. 2 in F major, BWV 1047
-Trumpet soloist Alexis Basque
No. 4 in G major, BWV 1049
No. 6 in B♭ major, BWV 1051
Violin Concerto in A minor, BWV 1041
– Violin soloist Olivier Brault
Founded by Francis Colpron in 1991, Les Boréades de Montréal focuses on early music. The ensemble has chosen an interpretative approach in keeping with the spirit of the Baroque era, by adhering to the rules of performance practice of the past and playing on period instruments. Critics and audiences alike in Canada and abroad have been unanimous in hailing the group's energy and spontaneity as well as its theatrical, expressive and elegant playing, indicative of a unique flair for Baroque aesthetics.
FRANCIS COLPRON, MUSIC DIRECTOR
Recorder and traverso player Francis Colpron is recognized as one of the most talented musicians of his generation. During the past three decades, the public, critics, and cultural authorities have acclaimed his abilities to innovate as an artist and performer. In 1991, he founded the ensemble Les Boréades de Montréal, of which he is the artistic director, and which puts on a very successful annual concert series in Montreal, performs in North America and Europe, and records on the ATMA Classique label.
ALEXIS BASQUE, Baroque trumpet
Alexis Basque is a graduate of the Conservatoire de musique du Québec, where he received his formal training in modern trumpet performance and began his first foray into composition and orchestration. He picked up the Baroque trumpet in 2005 in an attempt to better understand the origins of his instrument and in order to familiarize himself with historically-informed performance practices. He was then able to deepen his knowledge by attending the Mozarteum Sommerakademie of Salzburg with Susan Williams in 2012, and was introduced to the world of natural brass playing while working with renowned trumpet and natural horn players Graham Nicholson and Jean-François Madeuf. The discovery of the practice of instrumental doubling, as commonly seen in the baroque period, compelled him to add the baroque horn and tromba da tirarsi to his arsenal of instruments.
OLIVIER BRAULT, violin
Olivier Brault has enjoyed an international career for almost thirty years. Baroque violin teacher at McGill University, he is the director of Sonate 1704 (Québec) and of the ensemble Les Goûts Réunis (Luxembourg), principal violin with the Four Nations Ensemble (New York) and Les Boréades de Montréal and has been concertmaster of Apollo's Fire Baroque Orchestra (Cleveland) from 2011 to 2018. He can be heard on more than sixty recordings. In 2007, he completed a doctorate at the Université de Montréal on French music for violin and figured bass, an expertise that leads him to give lectures and masterclasses in prestigious institutions such as the Conservatoire royal de musique de Bruxelles and the Conservatoire de musique et de danse de Paris. In 2011, he was awarded the medal of the Assemblée Nationale du Québec. In 2016, an article from the Canadian