Theatre BC's Ozone Festival
2 One Acts -Whisper into My Good Ear, & Mrs. Dally has a Lover
Kamloops Players Society: Kamloops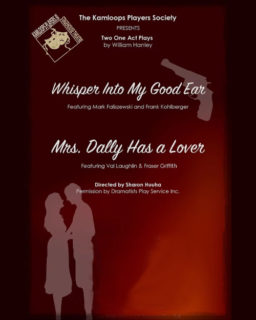 $25 Adult single show
$69 Three Day Adult pass

When booking your pass, please indicate either the date or title of the shows you would like to attend in the notes area when booking, or you may call us at 250-549-7469.

Mrs. Daly Has A Lover. A married 42 year old woman is having an affair with an 18 year old young man who lives in her building.
Whisper Into My Good Ear! Two elderly gentlemen meet in a park to commit suicide.