Powerhouse Theatre Presents
A Night of One Acts
Attention!
This is a past event,
click here
to view current event ticket listings.
---
Powerhouse Theatre
Thu, Dec 3, 2020 At 7:30pm
Fri, Dec 4, 2020 At 7:30pm
Sat, Dec 5, 2020 At 2:00pm
Sat, Dec 5, 2020 At 7:30pm
Tue, Dec 8, 2020 At 7:30pm
Wed, Dec 9, 2020 At 7:30pm
Thu, Dec 10, 2020 At 7:30pm

Due to new Covid Restrictions this event has been postponed. New Dates to be announced.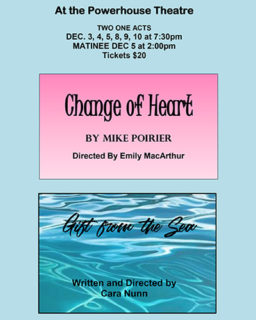 $20.00 per person (Tickets sold in pairs)
Limit 50 seats per night.
THIS EVENT HAS BEEN POSTPONED. New dates to be announced.
The Gift From The Sea
Written & Directed by Cara Nunn
"There are many Scottish stories about Selkies but the most common is a tragic story of theft, love and loss."
Lari Don
On the dawn of her 21st birthday, the Selkie child embarks on an epic journey to discover her roots and feel the embrace of a mother's love. This story of redemption and connection is brought to life with full-face masks and larger than life puppets.
Discover the magic of "The Gift from the Sea".
Change of Heart
Written by Michael Poirier
Directed by Emily Macarthur
Mary and Kathy Lithgow are spinster sisters who still live together in the inherited home where they were both born. Mary has always taken on the responsibility of managing their finances, and neither has ever wanted for anything. Kathy has never questioned Mary's role but... just how big is their fortune?
...............................................
Any ticket holder experiencing symptoms associated with COVID-19 the day of the performance should not attend. Tickets may be transferred to another patron, a credit can be provided for a future performance or be a full refund can be provided (for the cost of your ticket less the ticket processing fee)

Wearing masks inside the theatre is required.