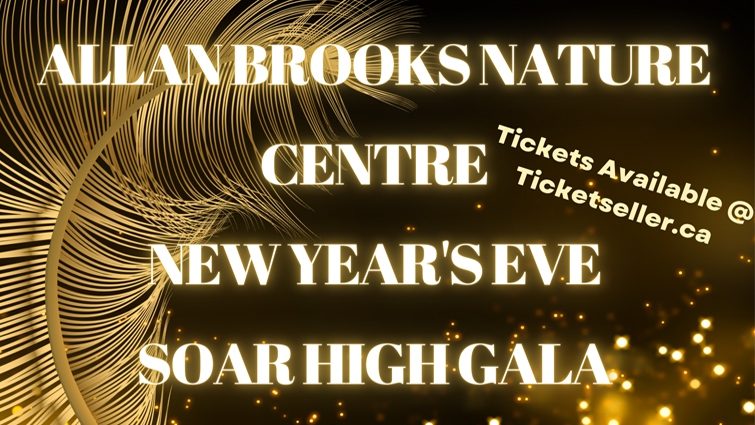 Allan Brooks Nature Centre New Year's Eve Soar High Gala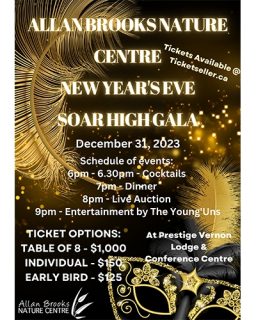 $125 Early Bird - Until September 22nd
$150 Regular Price
$1,000 Corporate Table for 8
*includes all fees and tax

Soar into the New Year at the Allan Brooks Nature Centre's "Soar High Gala" Join us for an unforgettable New Year's Eve celebration amidst the splendor of nature and luxury at the Prestige Vernon Lodge and Conference Centre. Immerse yourself in an enchanting evening of elegance, entertainment, and exploration as we bid farewell to the old and welcome the new.
Highlights of the Evening
Live Music & Dancing: Groove to the rhythm of live music, and dance your way into the midnight hour. Exquisite Dining: Indulge in a gourmet culinary experience crafted to tantalize your taste buds. Champagne Toast: Raise your glass for a sparkling champagne toast as we countdown to a new beginning.
Live Auction: Bid on unique items and experiences, with proceeds supporting the Allan Brooks Nature Centre's conservation and education efforts.
Early Bird tickets available until Monday, September 4th - $125

Information
Date: December 31, 2023
Time: 6:00 PM - 1:00 AM
Location: Prestige Vernon Lodge and Conference Centre
Dress Code: Formal Attire with a Nature-Inspired Twist - masquerade masks are optional