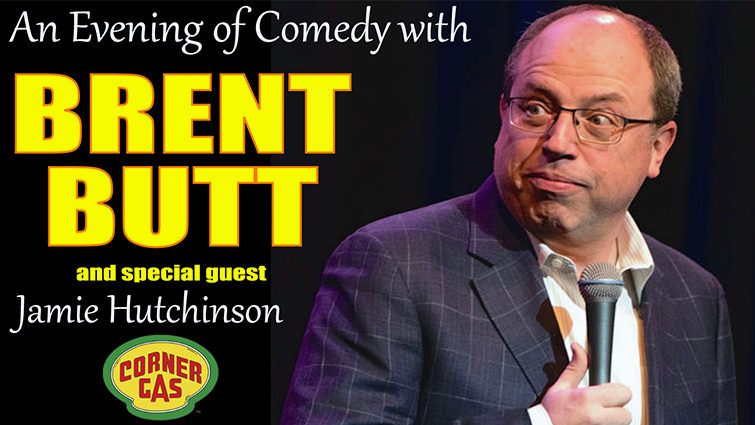 An Evening with Brent Butt
With special guest Jamie Hutchinson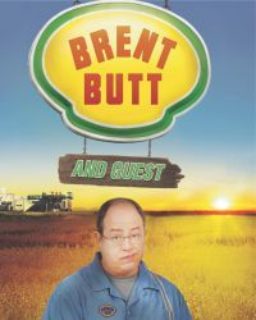 $48.50 Adult
Brent Butt was born and raised in the small farming community of Tisdale, Saskatchewan (population 3000). As the youngest of seven children, one does what one can to be noticed, and at an early age Brent discovered that being funny was a good way to get and hold people's attention. When he was 12 he watched a stand-up comic on television and immediately told his mother that he was going to become a comedian. Not fully understanding what he was talking about, she said, "Go ahead".
Brent honed his comedic storytelling prowess at the local coffee shop, where he and his friends would sit around - literally for hours at a time - discussing everything from world domination, to the most comfortable kind of socks. Brent insists, "Coffee shop conversation was a great way to learn comedy. It's relaxed and conversational and the jokes build naturally without forcing them."
In high school Brent performed stand-up comedy at variety nights and drama nights. When he was 20 a comedy club opened up in nearby Saskatoon, and Brent moved to the city to pursue a career in humour. He moved through the ranks incredibly quickly, and within four months of his first amateur night appearance, he was offered a tour on the road. After a year he was headlining in Toronto, and after only 4 years, he was showcased in his own gala performance at the world's largest international comedy festival - Montreal's JUST FOR LAUGHS.

His career, which was the subject of an episode of the cultural affairs program ADRIENNE CLARKSON PRESENTS, is an interesting one. Brent has become a regular at JUST FOR LAUGHS as well as appearing on numerous national and international television programs. Aside from his own national special BEDTIME WITH BRENT BUTT, he has been seen on A&E, HBO, CBC, CTV, and Global. His one-hour TV special entitled COMEDY NOW- FUNNYPANTS earned him a Gemini Nomination in the category "Best Comedy Performance". He was named "Best Male Stand-Up in Canada" at the 2001 Canadian Comedy Awards and was subsequently selected to represent his country on the WORLD COMEDY TOUR in Australia. He followed that by hosting the JUST FOR LAUGHS ASIAN TOUR in Singapore. His invitation to appear on the CBC 50th Anniversary Special entitled ALL-STAR COMEDY HOMECOMING secured his reputation as one of the funniest people in the country, as he performed alongside the most noted comedic minds from the past 5 decades of Canadian entertainment.
In 2005 Brent followed in the footsteps of Alanis Morissette and Shania Twain … not as a singer, but as host of the 2005 JUNO AWARDS. Butt joins a long list of comedians who have also hosted Canada's Music Awards over the past three decades. This is first time that a comedian will host the JUNO AWARDS since CTV first acquired the awards broadcast in 2002.
In 2006 Canada's #1 comedy went international securing a U.S. distribution deal with American cable network Superstation WGN. The series will be available in nearly 70 million U.S. homes while it has been concurrently licensed to broadcasters serving 26 countries across 5 continents in all – countries including Australia, Iraq, Finland, Morocco and more.
In 2008 Brent announced that the sixth season of CORNER GAS would be the last. "They didn't want it to end yet. But for the good of the show, I wanted to exit gracefully, on top of our game, when we're at our prime," Butt said at the time. Season six of the series has now aired with the final episode garnering record viewership numbers to make it "the highest on record for a Canadian scripted series since it began keeping track in 1994". Brent's follow-up half hour series HICCUPS ran for two successful seasons on CTV.
In 2013 Brent was honoured with a Queen Elizabeth II Diamond Jubilee Medal for his contributions to community and country. That same year Brent's first feature film entitled NO CLUE and directed by Carl Bessai was released. Brent wrote, starred in and produced the film under his Sparrow Media banner.
The highly anticipated feature film return to Dog River with CORNER GAS: THE MOVIE saw the entire beloved cast reunited to the delight of rabid fans and new fans alike. The movie received a special Golden Screen Award at the 2016 Canadian Screen Awards recognizing the projects stellar ratings and 'most watched' status.
Most recently Bell Media announced an all-new animated version of the iconic comedy franchise entitled CORNER GAS: ANIMATED. Re-imagined by creator and star Brent Butt the first 13 episode season is expected to premiere as part of The Comedy Networks 2017-2018 broadcast season. Production is now underway. Making his home in Vancouver for more then a decade, Brent continues to tour the country performing in clubs, theatres and as a much sought after corporate entertainer. "I love what I do." Butt says. "I look at it as just having coffee. Only now it's with hundreds of people at a time."