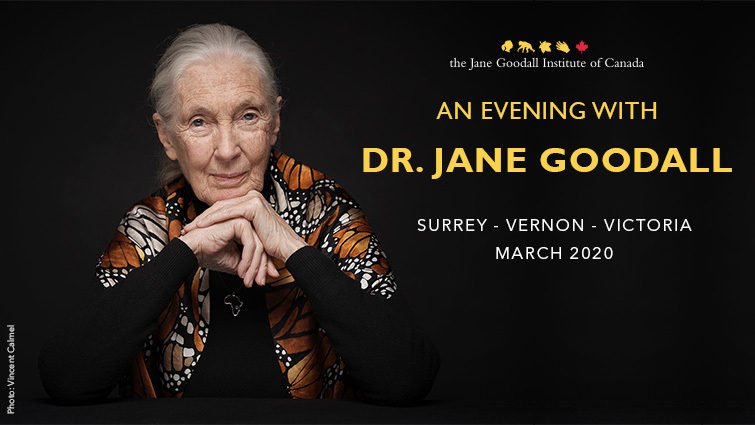 JGI Canada presents
An Evening with Dr. Jane Goodall
Spring Tour 2020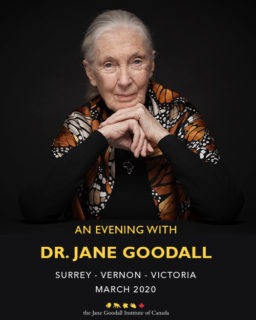 $230 VIP Purple (Rows A to D)
$92 Lower House (Rows A to P)
$77 Balcony (Rows AA to KK)
This Re-Scheduled show will be on sale soon!

Dr. Goodall first set foot in the forests of Tanzania in 1960, armed with little more than a notepad, a pair of binoculars and a dream of living in Africa and observing wildlife. From the moment she witnessed a chimpanzee make a tool to the moment she decided to leave the park in order to save the chimpanzees she cared for, Dr. Goodall will describe her extraordinary scientific breakthroughs in animal behavior and her journey to becoming one of the world's most prominent and active conservationists.
Dr. Goodall's talks never fail to inspire people of all ages as she recounts her unique experiences as a young woman working alone in the rainforest and her hope for a future where people live in harmony with nature.
VIP tickets include a meet & greet with Dr. Jane after the show.
About JGI:
The Jane Goodall Institute is a global community conservation organization that advances the vision and work of Dr. Jane Goodall. By protecting chimpanzees and inspiring people to conserve the natural world we all share, we improve the lives of people, animals and the environment.
All proceeds from ticket sales go towards JGI Canada's efforts to save our precious planet and its most endangered species.
Announcement – Dr. Jane Goodall event postponed to September 28, 2020.
Important message from the Jane Goodall Institute of Canada:

Due to growing concerns with coronavirus (COVID-19), it is with great disappointment and regret that we must postpone the upcoming event at the Vernon & District Performing Arts Centre scheduled for March 24th, 2020 in the interest of the health and well-being of Dr. Goodall and our audience members. The event will be rescheduled for September 28, 2020.

Dr. Jane Goodall remains in good health at her home in the United Kingdom and expects to resume her global outreach when the risks associated with the disease have abated. In the interim, Dr. Goodall will continue her work, albeit remotely, as a global advocate for the health of the planet.

Ticket Seller Refund Policy link https://www.ticketseller.ca/about/cancellation-refund-policy

Tickets to An Evening with Dr. Jane Goodall at the Vernon & District Performing Arts Centre remain valid for September 28, 2020. Guests are encouraged to contact the Ticket Seller Box Office directly for information and instructions on handling tickets and processing reimbursement if this rescheduled date does not suit your availability.

We thank you and all of our partners for your understanding and cooperation at this time and we hope to welcome you all on September 28, 2020.

If you would like more information on Dr. Goodall's future visits to Canada please stay in touch through www.janegoodall.ca/enews. If you have any additional questions regarding this statement, please contact the JGI Canada office at info@janegoodall.ca.
Your Tickets for Postponed or Cancelled Events:
Our Ticket Seller box office has set the following policies for current ticket-holders:

Postponed Events:

Ticket Seller will hold your tickets and notify you directly about re-scheduled performance dates as soon as we know them. Artists are wanting to re-schedule and this process is underway. Please check Ticketseller.ca regularly for updates.

If re-scheduled performance dates do not work for you, as a not-for-profit box office, Ticket Seller is asking ticket-holders to take a credit on their account and apply it to future events instead of an immediate refund.

Refunds incur added non-recoverable banking and credit card charges that altogether would have a significant financial impact on Ticket Seller.

Cancelled Events:

To date commercial touring events and our Society's own SPOTLIGHT Shows are re-scheduling and therefore are postponed. New dates to be confirmed shortly.

For those shows that do cancel, ticket-holders will have the same option to take a credit on their account for future events.

IF taking a credit on your Ticket Seller account is not possible at this time, please consider making a donation to the not-for-profit for any of their cancelled events.

For refund requests, we will be processing refunds in stages and in consultation with booking agents over the coming days and weeks.

Thank you for your patience and support,


Ticket Seller Box Office
(250) 549-7469
Toll Free: 1-866-311-1011