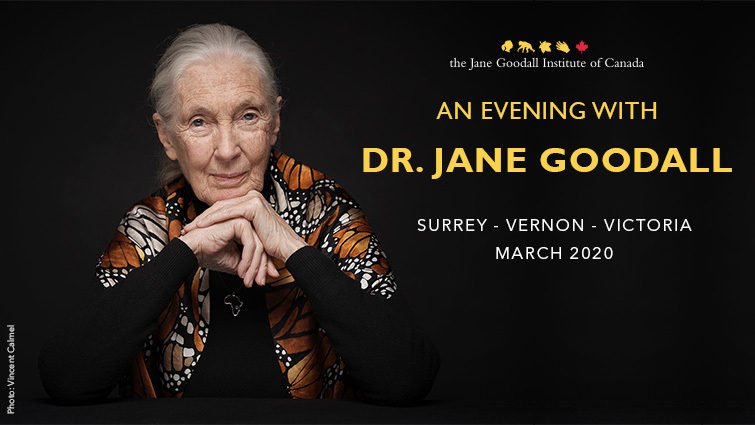 JGI Canada presents
An Evening with Dr. Jane Goodall
Spring Tour 2020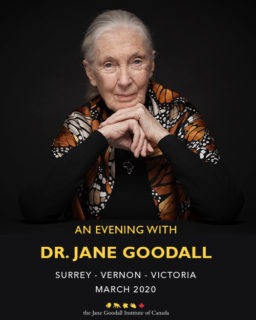 Announcement – An Evening with Dr. Jane Goodall: Cancelled
A Message from the Jane Goodall Institute of Canada:

Due to ongoing risks associated with coronavirus (COVID-19) and restrictions on large gatherings, it is with great disappointment and regret that we must cancel An Evening with Dr. Jane Goodall at the Vernon & District Performing Arts Centre scheduled for September 28, 2020. The health and wellbeing of Dr. Goodall and our audience members are of most importance to us and we cannot predict when events with large gatherings will be safe to resume in the near future. Dr. Goodall remains in good health at her home in the United Kingdom and is carrying on with her work, albeit remotely, as a global advocate for the health of the planet.

Although we won't be able to connect with you in person, we have an exciting virtual event in the works! Stay tuned for an exclusive invitation in your inbox over the coming weeks.

Here are your available ticket options:
Donate your ticket to support the work of the Jane Goodall Institute of Canada. Proceeds from Dr. Goodall's events provide critical funding for JGI Canada's efforts to protect our planet and its most endangered species, including providing care to over 130 rescued chimpanzees at our Tchimpounga Chimpanzee Rehabilitation Centre in the Republic of Congo. While we are more committed than ever to advancing our mission and Dr. Goodall's vision, the full extent of the COVID-19 crisis and the potential consequences on our organization and the areas we work are unknown. We hope you'll consider donating your ticket to help us protect wildlife at a time when it's needed most. Donations of unused tickets will receive a charitable tax receipt. Please contact the box office at 250-549-SHOW (7469) to donate your ticket.

Refund your ticket through the box office. If you're unable to donate your ticket you can refund it through the box office by calling 250-549-SHOW (7469). Please consider that refunds incur added non-recoverable banking and credit card charges that altogether would have a financial impact on us.

Credit your ticket(s) back to your Ticket Seller account. You can then use this for a future performance.
Thank you for your anticipated understanding and we do hope you are staying safe and healthy. If you would like more information on future events with Dr. Goodall please stay in touch through janegoodall.ca/enews. If you have any additional questions regarding your ticket, please contact the box office. We look forward to getting in touch soon with details about our virtual event.


Your Tickets for Postponed or Cancelled Events:
Our Ticket Seller box office has set the following policies for current ticket-holders:

Postponed Events:

Ticket Seller will hold your tickets and notify you directly about re-scheduled performance dates as soon as we know them. Artists are wanting to re-schedule and this process is underway. Please check Ticketseller.ca regularly for updates.

If re-scheduled performance dates do not work for you, as a not-for-profit box office, Ticket Seller is asking ticket-holders to take a credit on their account and apply it to future events instead of an immediate refund.

Refunds incur added non-recoverable banking and credit card charges that altogether would have a significant financial impact on Ticket Seller.

Cancelled Events:

To date commercial touring events and our Society's own SPOTLIGHT Shows are re-scheduling and therefore are postponed. New dates to be confirmed shortly.

For those shows that do cancel, ticket-holders will have the same option to take a credit on their account for future events.

IF taking a credit on your Ticket Seller account is not possible at this time, please consider making a donation to the not-for-profit for any of their cancelled events.

For refund requests, we will be processing refunds in stages and in consultation with booking agents over the coming days and weeks.

Thank you for your patience and support,


Ticket Seller Box Office
(250) 549-7469
Toll Free: 1-866-311-1011