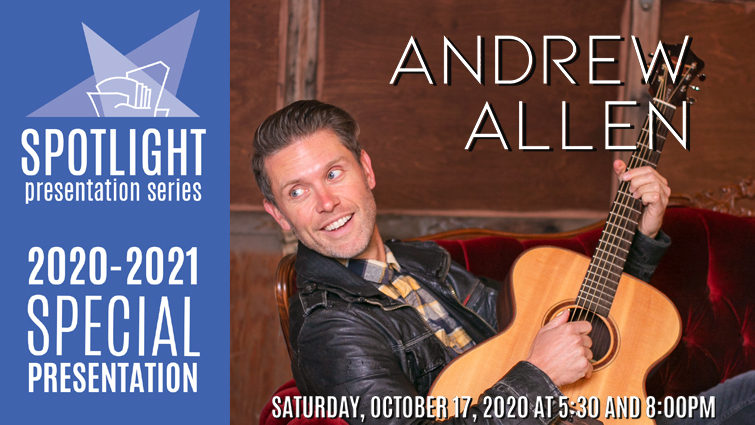 Andrew Allen
Presented by the Vernon and District Performing Arts Centre Society
No Minors
Tickets sold by table only (no single ticket sales)
Looking for a table of 4. e-mail stuar@ticketseller.ca to be added to a wait list

2 person table - $80
4 person table - $150
6 person table - $210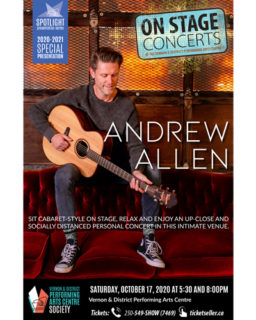 The Vernon and District Performing Arts Centre Society proudly presents Andrew Allen at the Vernon and District Performing Arts Centre on Saturday, Saturday, October 17th at 5:30 and 8pm. Andrew Allen is the first performance in the 2020/2021 SPOTLIGHT OnSTAGE Concert Series. With the audience seated cabaret-style on stage, our SPOTLIGHT OnSTAGE Concert Series allows for audiences to relax and enjoy an intimate concert in this venue.
(Please note the return of bar and concession services is pending).

Born and raised in Vernon BC, Andrew Allen's DIY ability and optimistic attitude have served him well. He's scored five Top 10 hits in Canada, 2009′s "I Wanna Be Your Christmas", 2011's "I Want You", 2015's "What You Wanted", 2016's "Favorite Christmas Song" and his biggest single released in 2010 "Loving You Tonight," which was lodged in the upper reaches of the charts for more than 22 weeks and broke the US Top 30 while gaining over 4 million views on YouTube.

A lilting, sunny tune about an ideal romance, "Loving You Tonight" helped put Andrew on tour with acts like The Script, Bruno Mars, One Republic, Train, Joshua Radin and The Barenaked Ladies.

Radio play aside, Andrew is a true live performer with an exceptional voice, incredible songs and limitless energy... not too mention a spatter of comic wit and story-telling ability that helps create a dynamic and interactive live show. He's definitely an artist that embodies the term 'live'.

Please join us for this socially distanced yet intimate show Andrew has developed for the VDPAC stage.