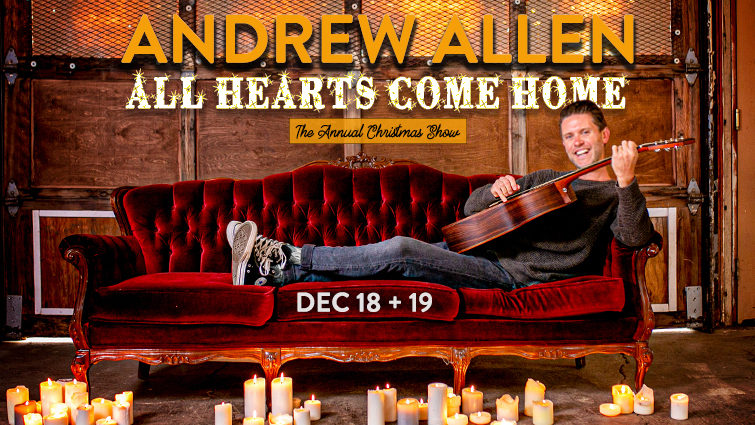 Andrew Allen 'All Hearts Come Home' Annual Christmas Show
Due to COVID restrictions, this event has been cancelled.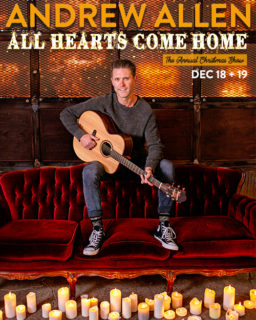 Table for 2 - $80.00
Table for 4 - $150.00
Table for 6 - $210.00

Vernon's own Multi-Platinum singer/songwriter Andrew Allen is back for his annual 'All Hearts Come Home' Christmas show. Scoring his first #1 with his original 'I Wanna Be Your Christmas', this is a season Andrew is especially fond of.


For many, the Annual Andrew Allen Christmas show is the moment the holiday's start. Normally, Andrew would be joined by all sorts of surprise ranging from world renowned pop artists, to the Kalamalka Highlanders Pipe Band Drummers and hundreds of local Okanagan students singing your favorite Christmas songs in a fun and upbeat performance. This year, for obvious reasons, the show will look a little different, but will still bring all the same holiday feels in an intimate and 'as close as you can be' performance, full of Holiday Classics, a mix of originals and his own top 10 Hits!
andrewallenlive.com
twitter.com/andrewallenlive
facebook.com/andrewallenlive
A mask must be worn until you are seated at your table.
You cannot have any of these symptoms (Fever, Cough, Sore Throat)
You must not be under a quarantine order or required to isolate.
By buying the ticket you agree to above terms.
Full terms and conditions here.
How to select your own table Help video