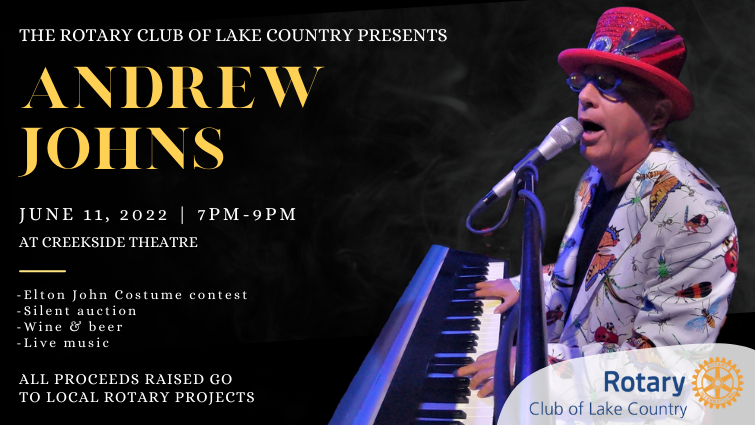 Creekside Theatre Presents
Andrew Johns Concert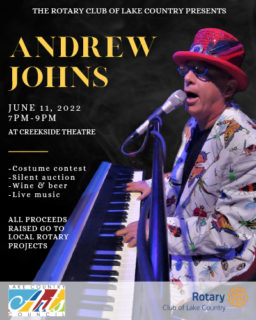 $39.00 Per Person
*includes all fees and tax
Andrew Johns is an entertainer, and he is coming to Creekside theatre in support of the Lake Country Rotary! Tickets are on sale now and we have a limited amount available.


COSTUME CONTEST: There will be a prize for the best Elton John costume of the evening!

SILENT AUCTION: We will have many gift baskets available throughout the night that you can bid on so bring your wallet! It is all in support of our community through the Lake Country Rotary.

Clever, polished and unbelievable impersonations are his trademark. Yes, a one man show making technology work for him- sheer talent on stage as he pulls off 4 part harmonies from Queen, Eagles, Steely Dan and Steve Wonder. No wimpy falsetto's here- he generates the full powerhouse female vocals of divas like Pink, Adele, Norah and more.

His Elton John impersonation is one of the best in the world and the demand for his show is increasing. His commitment to costume, minute detail and nuance leaves you breathless, this is showmanship at its finest. With over 40 years in the business, he has a reputation of excellence, both on stage and off stage. It goes without say he is a consummate professional and will always treat you and your audience with respect and dignity.

Andrew gives more than almost any other performer with his time, charity and effort in his performance.
You will definitely get MORE THAN EXPECTED every time with Andrew Johns.