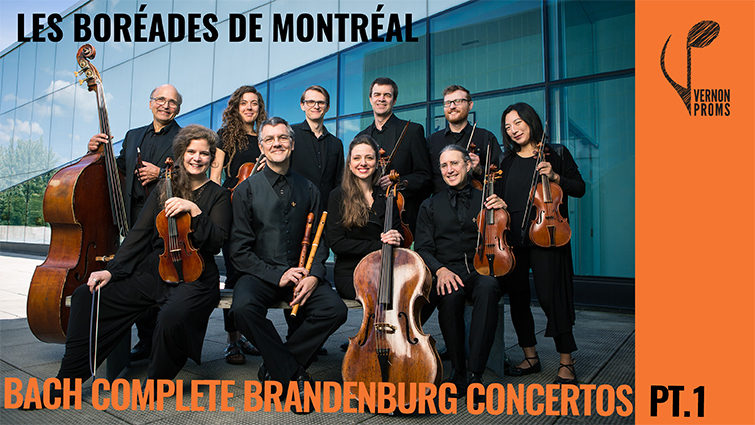 Vernon Proms Classical Music Festival
Bach Complete Brandenburg Concertos Pt.1
Les Boréades de Montréal co-present. with Early Music Vancouver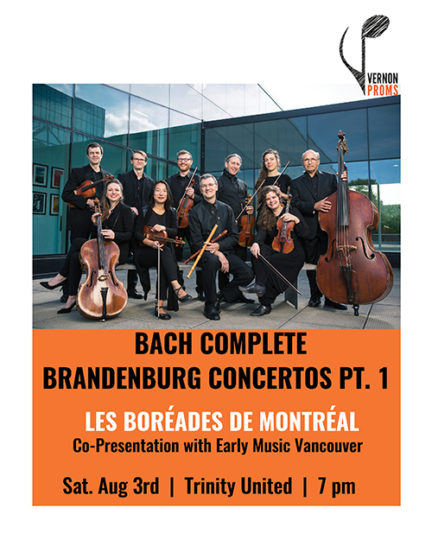 $40.00 Adult
$35.00 Senior/Student
Could there be a more perfect collection of concertos than the six Brandenburgs? Dazzlingly inventive, virtuosic, exuberant, inspired. And experiencing them performed—as they were meant to be heard on period instruments with Les Boreades' star-studded cast of principals as the soloists is priceless!
PROGRAMME
All works by J.S. Bach
Brandenburg Concertos
No. 2 in F major, BWV 1047
-Trumpet soloist Alexis Basque
No. 4 in G major, BWV 1049
No. 6 in B♭ major, BWV 1051
Violin Concerto in A minor, BWV 1041
– Violin soloist Olivier Brault
Founded by Francis Colpron in 1991, Les Boréades de Montréal focuses on early music. The ensemble has chosen an interpretative approach in keeping with the spirit of the Baroque era, by adhering to the rules of performance practice of the past and playing on period instruments. Critics and audiences alike in Canada and abroad have been unanimous in hailing the group's energy and spontaneity as well as its theatrical, expressive and elegant playing, indicative of a unique flair for Baroque aesthetics.
FRANCIS COLPRON, MUSIC DIRECTOR
Recorder and traverso player Francis Colpron is recognized as one of the most talented musicians of his generation. During the past three decades, the public, critics, and cultural authorities have acclaimed his abilities to innovate as an artist and performer. In 1991, he founded the ensemble Les Boréades de Montréal, of which he is the artistic director, and which puts on a very successful annual concert series in Montreal, performs in North America and Europe, and records on the ATMA Classique label.
ALEXIS BASQUE, Baroque trumpet
Alexis Basque is a graduate of the Conservatoire de musique du Québec, where he received his formal training in modern trumpet performance and began his first foray into composition and orchestration. He picked up the Baroque trumpet in 2005 in an attempt to better understand the origins of his instrument and in order to familiarize himself with historically-informed performance practices. He was then able to deepen his knowledge by attending the Mozarteum Sommerakademie of Salzburg with Susan Williams in 2012, and was introduced to the world of natural brass playing while working with renowned trumpet and natural horn players Graham Nicholson and Jean-François Madeuf. The discovery of the practice of instrumental doubling, as commonly seen in the baroque period, compelled him to add the baroque horn and tromba da tirarsi to his arsenal of instruments.
OLIVIER BRAULT, violin
Olivier Brault has enjoyed an international career for almost thirty years. Baroque violin teacher at McGill University, he is the director of Sonate 1704 (Québec) and of the ensemble Les Goûts Réunis (Luxembourg), principal violin with the Four Nations Ensemble (New York) and Les Boréades de Montréal and has been concertmaster of Apollo's Fire Baroque Orchestra (Cleveland) from 2011 to 2018. He can be heard on more than sixty recordings. In 2007, he completed a doctorate at the Université de Montréal on French music for violin and figured bass, an expertise that leads him to give lectures and masterclasses in prestigious institutions such as the Conservatoire royal de musique de Bruxelles and the Conservatoire de musique et de danse de Paris. In 2011, he was awarded the medal of the Assemblée Nationale du Québec. In 2016, an article from the Canadian