Lights of Broadway Presents Disney's
Beauty and the Beast
Center Stage Performing Arts Academy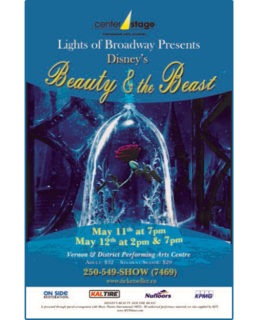 $32 Adult
$29 Senior/Student
Center Stage Performing Arts Academy's Lights of Broadway welcomes you to sit back, relax and Be Our Guest with our 17th season's production of Disney's musical, Beauty and the Beast!

A "Tale as Old as Time" follows the enchanting story of Belle, a beautiful young woman who loves to read and dreams of far off places and a prince in disguise. Little does she know that when she enters an enchanted castle that her life will change forever when she encounters a hideous beast.
Disney's Beauty and the Beast will have you falling under the spell of the magical characters in the castle, swaying to the beautiful and exciting music and leave you in love with a love story for the ages.