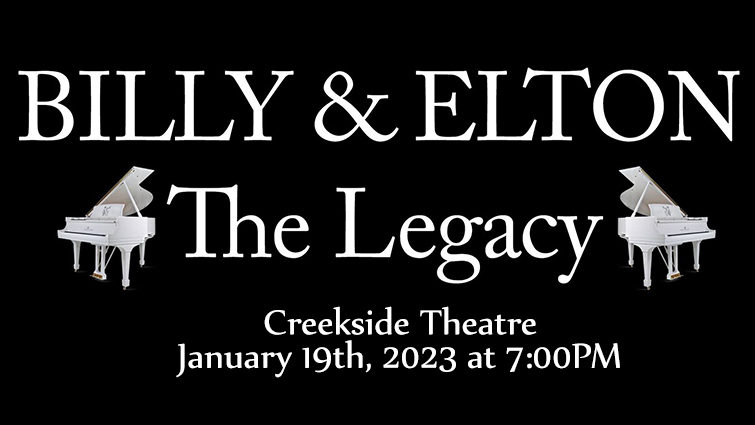 Billy & Elton - The Legacy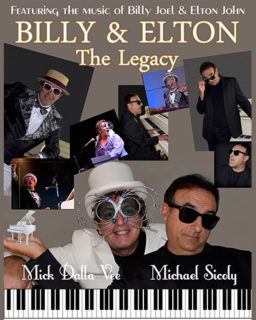 Refunds will be automatic
Throughout his career, Elton John has sold 100 million singles worldwide, making him one of the biggest selling music artists of all time. He has had 57 top 40 hits with 27 of these hitting the top ten and nine reaching number one.

BILLY JOEL is no slouch himself. Across the years of his solo career, Joel produced 33 self-penned Top 40 hits in the U.S., three of which ("It's Still Rock and Roll to Me", "Tell Her About It", and "We Didn't Start the Fire") reached the top of the Billboard Hot 100 charts. Since his first show in 1978, Billy has performed more than 100 shows at Madison Square Garden.

Taking on the role of ELTON JOHN is singer, songwriter, producer, and multi-instrumentalist Mick Dalla-Vee. From self-taught guitarist to an enviable career, the Randy Bachman Band (The Guess Who & BTO) this lead singer/frontman, bassist, guitarist and keyboard player has received platinum and gold awards for his work on albums as diverse as Motley Crüe, Trooper, and Bachman & Turner.

Artfully mastering the music of BILLY JOEL İs lifelong entertainment professional Michael Sicoly. He began with a passion for music before being bitten by the acting bug. Michael has recorded jingles for major high media profile clients and has appeared in leading TV series and major motion pictures.