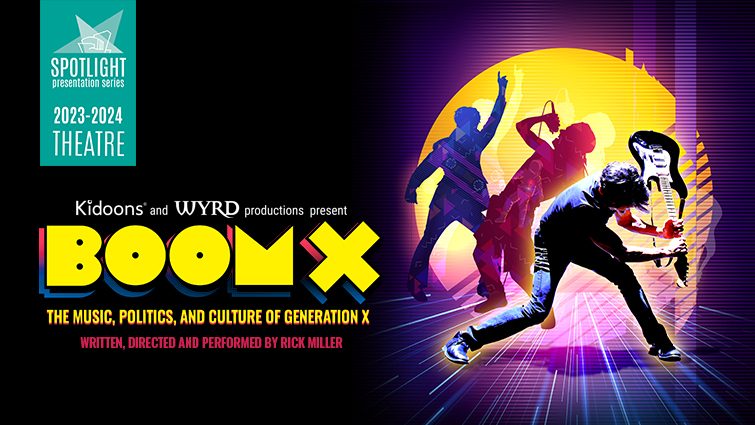 Vernon & District Performing Arts Centre presents
BOOM X
By Rick Miller
Subscriptions on sale now. Single tickets go on sale on June 15, 2023.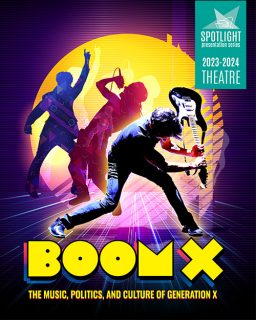 $45 Adult
$42 Senior
$40 Student
$30 First two rows (all ages)
He's back! BOOM X is the explosive new solo show by Rick Miller that captures the music, pop culture, and politics of the 70s, 80s and 90s. From Atari to Kurt Cobain, Watergate to punk rock, Rick captures generation-defining moments through music and impersonation. He gives voice to over 100 different characters in this stunningly staged production that blends cutting-edge multimedia with tour-de-force storytelling.

BOOM X is the second in Miller's trilogy of solo multi-media performances that collectively span 75 years and chronic generation-defining moments for the baby boomers, generation X, and millennials.

"STUNNING… A marvelous mashup of media, verbatim theatre, jukebox musical, and autobiographical confession"
- Globe & Mail

"MASTERPIECE… The special effects will blow you away, and so will his impersonations"
- The Suburban

"JAW-DROPPINGLY IMPRESSIVE...Rick Miller's BOOM X is nothing short of MIRACULOUS."
- Times Colonist

Audience Advisory: This show contains the use of strobe lights.