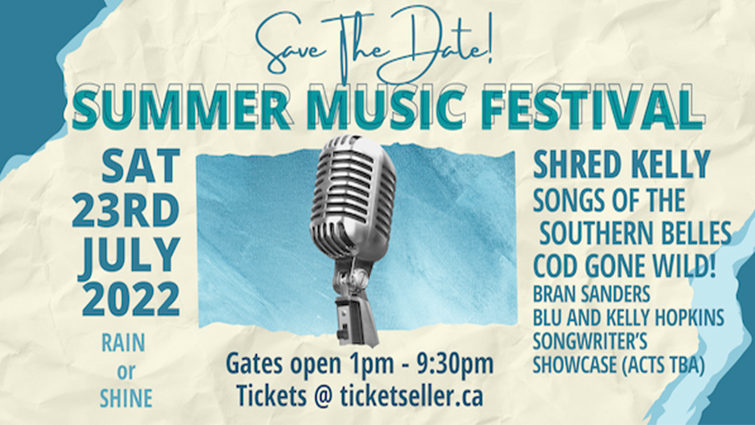 Caetani Centre Presents
Caetani Summer Music Festival
Gates open at 1:00PM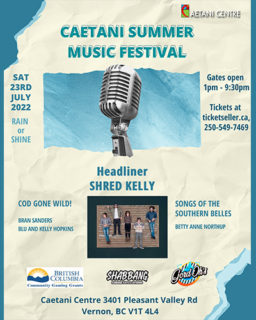 Mark your calendars and get ready to dance and sing along with our day long festival of music.
The series showcases talent from all over the Okanagan and Canada with concerts taking place in the beautiful setting of the Caetani gardens.

TICKETS
FULL DAY TICKET 1pm - 9:30pm: $85.00
Day Pass Only 1pm - 5:30pm: $40.00
Evening Pass Only 5:30pm - 9:30pm: $50.00

A limited number of tickets will be available at the door if not sold out.

Food Trucks will be on site & refreshments available.
Bring your blankets and folding chairs and enjoy a relaxing afternoon of music presented as a benefit for the Caetani Cultural Centre.

Doors open at 1 pm and the concerts continue to 9 pm.

RAIN OR SHINE

Admission proceeds go directly to support the artists, programs, operations and events at the Centre.

Parking is not available at the Caetani Centre during events and patrons are asked to park off site in approved parking zones, and to please respect our neighbours by not blocking driveways.

2022 Line Up
1pm - GATES OPEN
1:30 - 2:15 Bran Sanders
2:30 - 3:15 Blu and Kelly Hopkins
3:30 - 4:15 Betty Anne Northup
4:30 - 5:30 Cod Gone Wild

5:30 - 6:30 Break - Food trucks will be available on site

6:30 to 7:45 Songs of the Southern Belles
8:00 - 9:30 Shred Kelly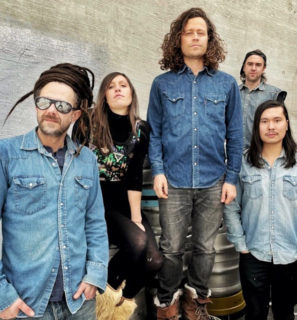 Evening Performance
HEADLINERS
A five-piece, alternative folk rock band that emerged from the heart of the Canadian Rockies in 2009. Over the past decade the band have taken their highly energetic live show from humble beginnings on the Canadian ski-town circuit to the international stage.

The band's striking and energy-packed sound has evolved from their eclectic musical influences and their unique experiences as individuals. Their progressive pairing of acoustic instrumentation with electric counterparts, harmonies, and driving rhythm, continues to develop and reach new heights.
"Influenced as much by old man Leudecke as by Arcade Fire, it is as if Pete Seeger met up with the Smashing Pumpkins for a ski and a jam!" Exclaim

"Arguably the most real, raw, and evocative album of their burgeoning career. (Like A Rising Sun)" — Music Life Magazine

"Like A Rising Sun is an outpouring of explosive, fast-paced, and anthemic folk-rock, which I find incredibly impressive and enjoyable from beginning to end. Shred Kelly have very quickly become a new favourite band for me, and I highly recommend you give their music a spin." - Great Dark Wonder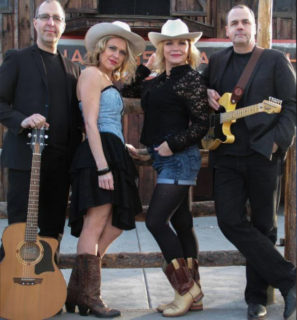 Evening Performance
Songs of the Southern Belles is a Nashville inspired tribute show celebrating the female country stars. Vocalists Kinga Heming and Shamma Sabir will relive the stories told through songs originally sung by Nashville royalty like Dolly Parton, Tammy Wynette, Patsy Cline, Loretta Lynn, Connie Smith, Anne Murray, Carrie Underwood, Alison Krauss, Maren Morris and others. Kinga Heming (vocals), Shamma Sabir (fiddle/vocals), Sean Bray (electric guitar/vocals) and Loni Moger (acoustic guitar/vocals).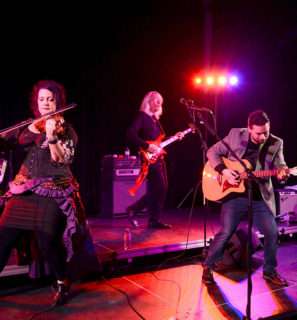 Day Performance

This Celtic inspired band is focused on giving traditional music a modern edge. They blend the varied talents of musicians who's classical, folk, rock and jazz backgrounds fuse together to create a dynamic and unique sound that instantly connects and resonates with audiences. Through their uplifting energy, tight vocal harmonies and remarkable stage presence, they weave together a tapestry of tales that evoke a nostalgic experience of days gone by.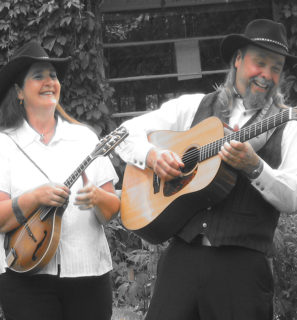 Day Performance
Winners of 2 BCIMA music awards, Blu & Kelly Hopkins are a song writing multi-instrumentalist duo. Focusing on original material, their extensive repertoire lets them blend traditional and contemporary tunes into their show with a dash of humour to achieve an entertaining, exciting, yet mellow brew of good times good tunes!
The couple are a bona fide channel for classic folk, roots and country. Blu demonstrates again and again a deep connection to the lyrics of the greats. Names like Stan Rogers and John Prine float over the campfire when he and Kelly bring their award-winning talent to the party.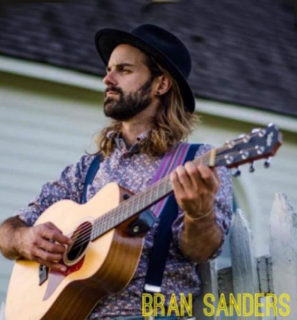 Day Performance
Like a true folk troubadour, Bran Sanders considers himself to be semi-nomadic, having wandered across Canada for years with a guitar on his back and a tune in his head. At least he did until Covid hit and he was forced to sit still for awhile. But in the time leading up to his recent album, This Old House, he often traveled between his home province of Ontario and British Columbia, where he now currently resides in the town of Westbank. Sanders grew up outside of Owen Sound and was originally planning to play Heartwood Hall in January to celebrate the new album (we're hoping it gets rescheduled for a date in 2021).