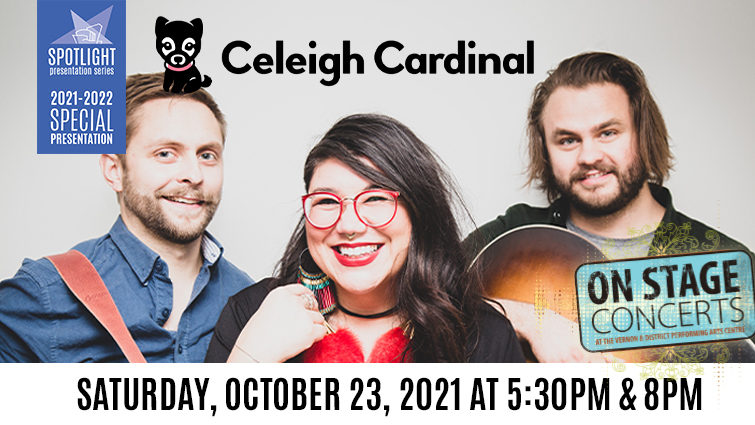 VDPAC OnSTAGE Concert Series
Celeigh Cardinal Trio
$50.00 - Tables for 2
$100.00 - Tables for 4
$150.00 - Tables for 6
PROOF OF FULL VACCINATION WILL BE REQUIRED (2 dose)

The Vernon and District Performing Arts Centre Society proudly presents Celeigh Cardinal Trio for two shows on October 23rd, 2021 at 5:30pm & 8pm.
With the audience seated cabaret style right on the main stage, the unique OnSTAGE Concert Series allows audiences to relax and enjoy a socially distanced show in this popular and more intimate performance format.
"I've always connected with artists whose voices resonate; you can feel it in your body. That is what I've always wanted to be."
With a confident voice and boundless energy, Celeigh Cardinal owns a stage connecting deeply with her audience through humour, passion and love. Whether sweetly strumming an acoustic guitar or leading her band in a rocking rave-up, she commands our attention. Her singing is rich and deep with a burnished maturity and a nimble technical virtuosity that wraps itself around notes with a purr, a snarl or something in the middle. Her songs are authentic and heartfelt and connect us to the healing power of music. Cardinal has received many accolades and nominations for her two full-length albums, but most notably was awarded the 2020 Juno Award for Indigenous Artist of the Year and recently received two 2020 Western Canadian Music Award Nominations.
Generously Sponsored By: