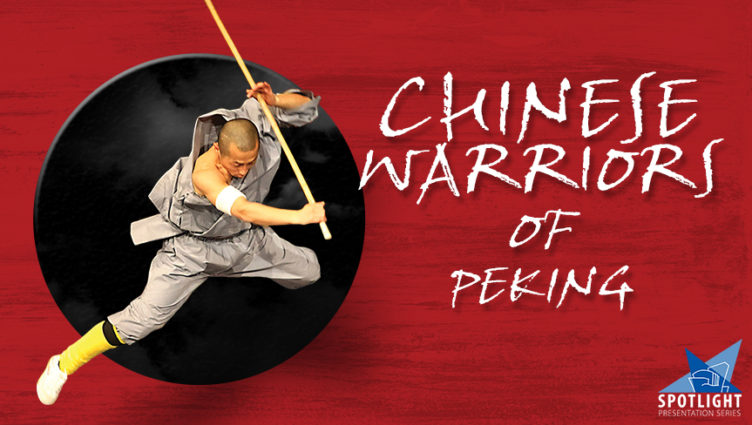 Chinese Warriors of Peking
Spotlight Special Presentation Series
This performance has been cancelled. Sorry for the inconvenience.
$40 Adult
$37 Senior
$35 Youth < 18

"… Some of the world's greatest acrobats and a host of undisputed masters of martial arts as well as some potential Olympic gymnastic medalists of the future." - Hastings Observer
The Vernon and District Performing Arts Centre Society proudly presents Chinese Warriors of Peking on Monday, September 17, 2018 at 7:00pm at the Vernon and District Performing Arts Centre as part of the 2018/19 SPOTLIGHT Special Presentation Series.
High intensity acrobatics and breath-taking live stage combat, the Chinese Warriors of Peking tells the story of two rival martial arts disciplines battling for victory in the ancient Chinese capital of Peking.

Under the direction of Qui Jian, the Chinese Warriors of Peking boast a company of 30, with the best of the best in acrobatics, weapons handling, juggling and live stage combat. Their production is a mixture of storytelling and spectacle, with stunning visuals from sets to costumes. With something for everyone, the Eastbourne Herald calls it "… an entertaining show for the whole family."
Set during the Ming Dynasty, the emperor holds a royal Martial Arts tournament in Peking. After the Wudang warriors are struck down and defeated, they vow to seek revenge and defeat the victorious Shoalin warriors. However, after a show stopping head-to-head battle at the next tournament, the emperor announces both schools to be the royal warriors of Peking. Once enemies, the Wudang and Shoalin warriors now join together as one to defend the peace and dynasty of Peking!
Founded in 1958 as a group of Chinese acrobats and martial artists, the Chinese Warriors of Peking have won several awards at the Shandong Provincial Acrobatics and Magic Competition for their Ring Diving, Spinning Plates, Feet Juggling, Swinging Poles, Stacking Chairs, and Bicycle routines. They've toured many countries including Denmark, Britain, and the United States. In 2016, their Slack Wire act was picked up by Cirque du Soleil and has toured with them around the world. Their successes have put them on the map as one of the world's greatest acrobatic groups.