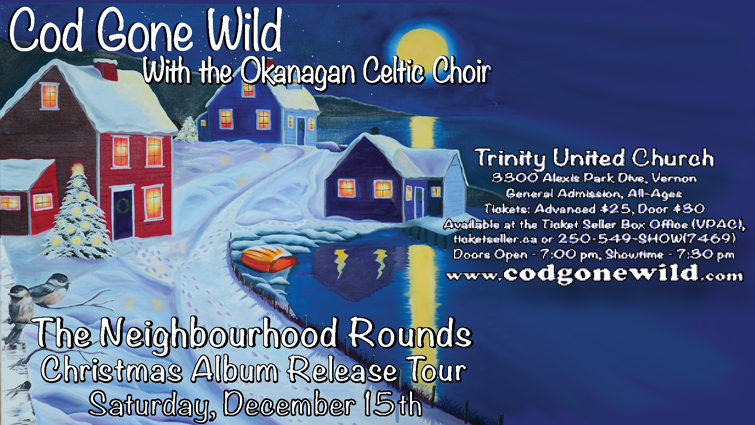 Cod Gone Wild Christmas Album Release
With the Okanagan Celtic Choir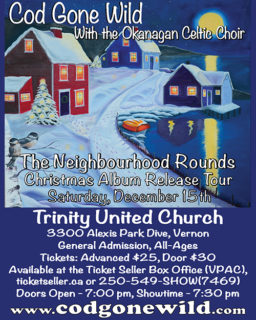 $25 General Admission ($30 at the door)
Join Cod Gone Wild as they release their Christmas album, "The Neighbourhood Rounds," a mix of East Coast, Newfoundland and original Christmas songs. The Cods will be performing all the new album as well as other holiday and non-holiday favourites! Joining Cod Gone Wild and opening the show for this special concert will be the Okanagan Celtic Choir. Based out of Vernon and under the direction of Cod Gone Wild frontman Andrew Mercer, the haunting harmonies from this SATB choir will surely get you in the Christmas Spirit.

Story of "The Neighbourhood Rounds"

Cod Gone Wild singer Andrew Mercer grew up on a small neighbourhood street called "Newfound Lane," in the town of Bay Roberts, Newfoundland. On this street there lived a tight knit group of neighbours who regularly got together to celebrate each others' birthdays and anniversaries. Many years ago, a tradition was started at Christmas time to go around the neighbourhood and visit each house, taking the time to have a drink, some food, and to "spin a few yarns" at each stop along the way! The tradition of the neighbourhood rounds down on Newfound Lane, continues to this day.

This December, Cod Gone Wild will be embarking on its own neighbourhood rounds with ten shows all around their neighbourhood, to celebrate the release of the new record, performing shows from Osoyoos to Kamloops and all places in between! Join us for what is sure to be a memorable evening of tradition and down-home fun!