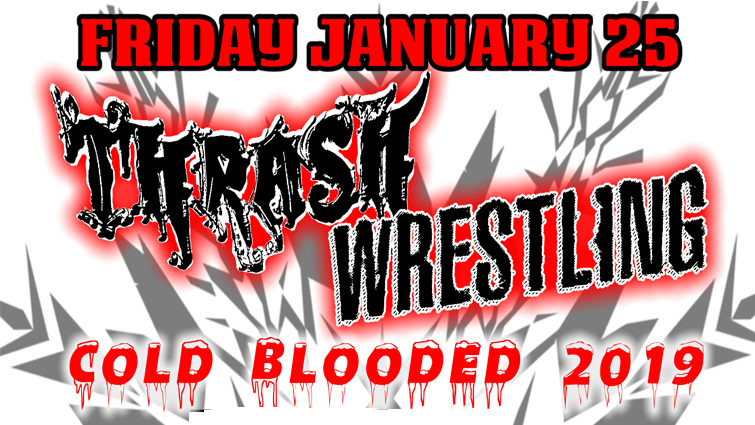 Thrash Wrestling Presents
COLD BLOODED!
Tickets are available at the door. Cash only please.
Attention!
This is a past event,
click here
to view current event ticket listings.
---
Schubert Centre
Fri, Jan 25, 2019 - 7:30pm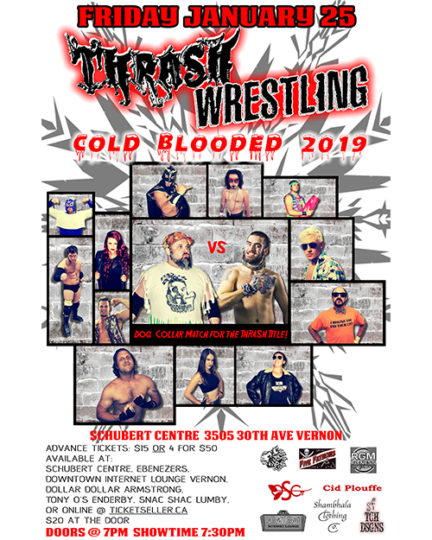 Tickets are available at the door. Cash only please.
$15 General Admission
Starting Thrash's new year is, as always, COLD BLOODED!
The MAIN EVENT
#1 Contender and Super Evil 17 winner The "One Man Militia" Codiac Cope answers to The Champion MAD DOG Marty Sugar's Thrash title match stipulations. These two men will chain up in a Dog Collar Match for the top prize!
Todd Quality returns to address his tag-team championship with his injured partner Michael More on a thrilling episode of More's Mic. Meanwhile Todd Quality will be in action later against the Local Legend Black Dragon!
Making his Thrash Wrestling debut, "The Millennial Pipe Bomb" Nick Price takes on "Trauma-Hawk" Ace Redmann Junior!
"Top Young Gun" Sean Gaston is pitted in combat against the most feared sailor in all the seven seas, Salty the Seaman!
And in intergender tag-team action, Slave the Homicidal Maniac teams with his girl the "Vixen of Thrash" Jade versus "The Queen of the
Okanagan" Scarlett Black and her man "Dastardly" Danni Deeds!
Always explosive action also featuring "Blonde Bomber" Braydon Goss, "Yoga Guru" Davey Deals and Chucky Lee Ray!