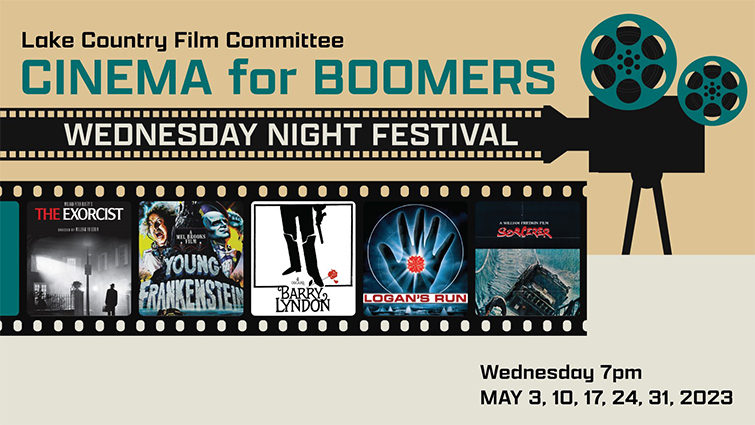 Creekside Spring Film Festival
Wednesday Night Festival present by the Lake Country Film Committee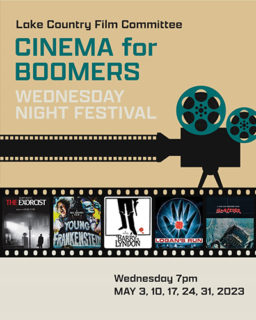 $10 - Cash at the door per movie.
*Including Fees & Charges
Cinema for Boomers

This selection of films represents the range of cinema available during the last great period of moviemaking. During the late sixties and early seventies movies were made for adult audiences with adult themes and all were produced to be seen on a big screen. The festival is intended to showcase the power of cinema using a variety of genres and only represents a handful of the great movies made during this period. The common theme of these films is Fate or Destiny.

Wednesday Night Festival

Wednesday May 10, 7:00pm
Young Frankenstein (1974), directed by Mel Brooks, is Mary Shelley's Frankenstein made into comedy. Shot in Black and White, the movie uses the contrast of black and white to add mood and pay homage to the early horror classics. The sets include the original sets from the 1931 production of Frankenstein. The film features Gene Wilder, perhaps the greatest comic actor of the 20th Century and 3 of the best female comedic performances ever, by Cloris Leachman, Madeline Kahn, and Teri Garr.

Wednesday May 17, 7:00pm
Barry Lyndon (1975), directed by Stanley Kubrick, is a period drama shot on locations throughout Europe. This film won 4 Academy awards, 3 of which are for Best Costume Design, Best Art Direction and Best Cinematography. The film was a commercial disaster yet features extremely strong supporting performances and casting, hallmarks of Kubrick films in general. Leon Vitali who plays Lord Bullingdon, gave up his acting career to become Kubrick's assistant for the rest of the director's life.

Wednesday May 24, 7:00pm
Logan's Run (1976), directed by Michael Anderson, based on the 1967 novel of the same name is a set in a future where the computer-controlled state provides all for everyone, until you turn 30. Then you are required to attend carrousel, a celestial death march. The exterior shots of the future utopia were shot in Dallas-Fort Worth using malls and public parks. The architecture, sets, story and rudimentary special effects combine to create a convincing portrait of the future.

Wednesday May 31, 7:00pm
Sorcerer (1977), directed by William Friedkin, is the second adaptation of the 1950 French novel Le Salaire de la peur. (The Wages of Fear). The film's structure of 4 vignettes followed by the meat of the movie requires the type of audience that is willing to be drawn in. The film is notable for its locations and soundtrack. Tangerine Dream, an early electronic music band from Germany, provides the soundtrack which is wholly different from anything ever used before in Cinema. Although a commercial failure released two weeks before Star Wars, the movie has grown in stature and is considered a masterpiece.