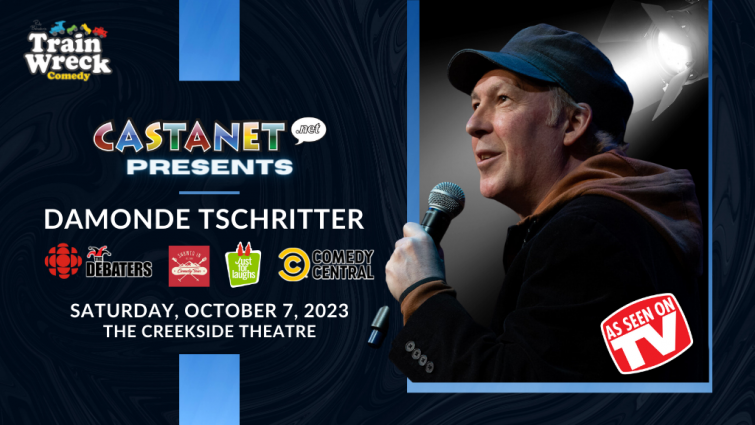 Train Wreck Comedy Presents Damonde Tschritter
New Venue - Kelowna Curling Club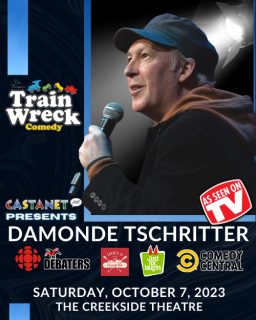 The show is moving to the Kelowna Curling Club link: https://www.trainwreckcomedy.com/tc-events/damonde-tschritter-kelowna-curling-club/
Creekside ticket buyers will be refunded, you must re-buy for the new venue.
Train Wreck Comedy returns to the Creekside Theatre on Saturday, October 7 with Snowed in Comedy Tour regular and Train Wreck Comedy favourite, Damonde Tschritter.

Damonde is a hilarious and unique stand-up comedian, so much so that Canada's National newspaper, The Globe & Mail, hailed him as "Comedies new Superhero, and perhaps this country's finest comedic storyteller."

His TV comedy specials have aired on CTV, CBC, HBO, Comedy Network and Comedy Central. He can be heard on SiriusXM radio, as well as CBC's The Debaters and Madly Off in All Directions, and he has appeared at every comedy festival in North America including the New Faces Gala at Just for Laughs.

He's the only Canadian in 35 years to win The Seattle International Comedy Competition, the largest of its kind in the United States. And he was awarded the Gold Medal Performance for the top comedic act at the 2010 Winter Olympic games in Vancouver.
Damonde has shared the stage with comedy legends, Robin Williams, Tim Allen and Bob Saget, to name a few. He has appeared in both film and television and is an accomplished screenwriter with two TV shows and one movie currently in development.