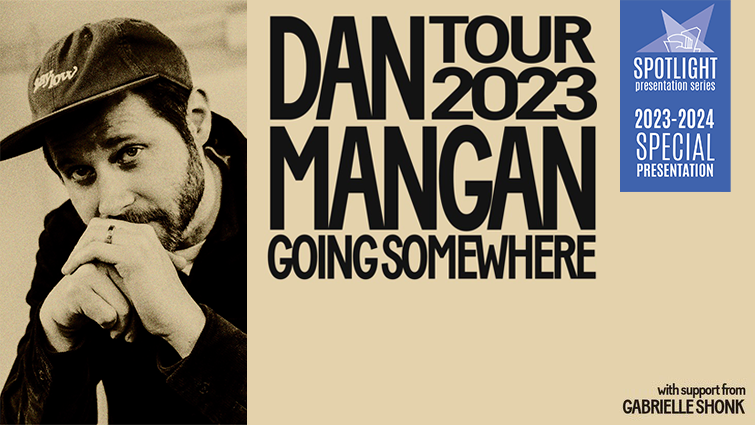 Vernon and District Performing Arts Centre presents
Dan Mangan
$50 Adult
$47 Senior
$45 Student
*includes all fees and tax
Dan Mangan is a two-time JUNO award winning & two-time Polaris Music Prize listed musician and songwriter. He lives in Vancouver, British Columbia with his wife and two sons. He has released 5 studio LPs on Arts & Crafts, and toured extensively in North America, Europe & Australia. Dan also scored the feature film Hector And The Search For Happiness starring Simon Pegg as well as television shows for Netflix (Hilda) and AMC (Unspeakable). In 2017, he co-founded Side Door, a community marketplace platform matching performers with spaces to create shows anywhere, including interactive ticketed online shows.
Mangan's new album, 'Being Somewhere', arrives in October 2022. Produced by Drew Brown (Radiohead, Beck), the album unfurls like an overdue conversation with a dear friend where you talk about the world, how you're doing, and how you can help one another. Forging sonics well beyond the tropes of modern folk music, the album features a global cadre of top tier musicians including Joey Waronker (Beck, Atoms for Peace), Jason Falkner (Beck, St. Vincent), Thomas Bartlett (The National, Taylor Swift), Dave Okumu (Arlo Parks, Adele) Mary Lattimore (Kurt Vile, Sharon Van Etten), & Broken Social Scene frontman Kevin Drew

"He sings with the soul of Woody Guthrie – if Woody Guthrie had listened to Godspeed (You! Black Emperor)" – NME
Gabrielle Shonk - Supporting Artist
Montréal-based singer-songwriter Gabrielle Shonk shares "How We Used To Be", her first new music in five years. After parting ways with the major label behind her debut album, Shonk used her newfound creative freedom to collaborate with longtime friends, co-writer Jessy Caron of the band Men I Trust, and producer Jesse Mac Cormack (Helena Deland). The result is a moody single with tinges of 90s R&B exploring romantic nostalgia by reminiscing about a relationship before it fell apart. "How We Used To Be" is a love ballad about "a relationship that was hard to leave," explains the JUNO-nominated singer. Delicate piano lines and softly-strummed acoustic guitar accompany Shonk's dreamy vocals recalling a time in a relationship before it turned toxic. "I hate you, I love you, I miss you," Shonk laments before the soulful chorus reflects on better times.
Please note: video contains representations of self harm.