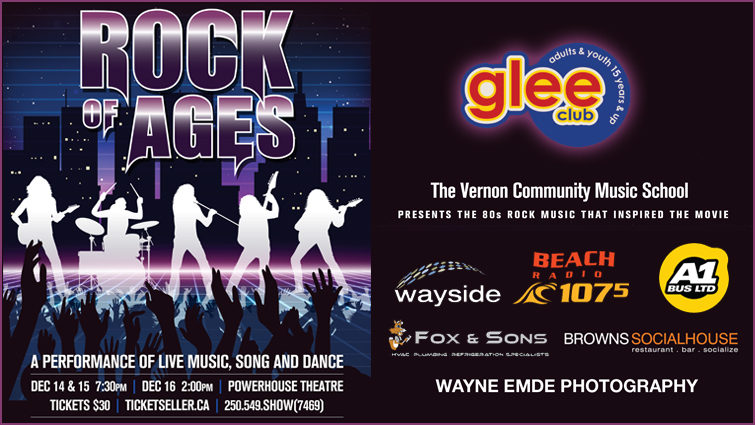 Vernon Community Music School's and 107.5 Beach Radio
Rock of Ages: The 80's Rock Music That Inspired the Movie
Attention!
This is a past event,
click here
to view current event ticket listings.
---
Powerhouse Theatre
Fri, Dec 14, 2018 - 7:30pm
Sat, Dec 15, 2018 - 7:30pm
Sun, Dec 16, 2018 - 1:30pm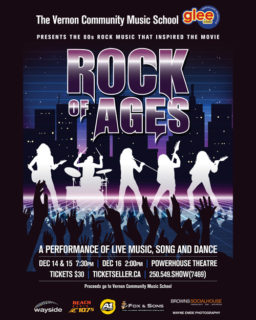 $30 All Seats

Come out for Glee Clubs fifth annual show.
We are a singing and dancing show choir and guarantee to "Rock your socks off". No hearing assistance will be required! Join us as we take you on a musical rock n roll journey. This performance will entertain you from the moment it starts until the moment it ends! The desire to sing and dance along will be hard to resist! The performance will bring to life the music of "Journey", "Pat Benatar", "Guns & Rosses", "Bon Jovi", and many more. We will also be featuring the Glee Club's very own band of well known and loved local musicians. We are again fortunate to have Vernon's own Darby Mills join us, so come and hear her sing her "HeadPins" smash hit "Don't it make you feel". Heather Stranks and Jens Goerner of City Dance are also featured.
This is sure to be a hit, so don't delay! Buy your tickets today. Bring your family, this makes a great Christmas surprise.
The Glee club proudly supports our community by donating proceeds from their shows to the Vernon Community Music School.
See you at the show!