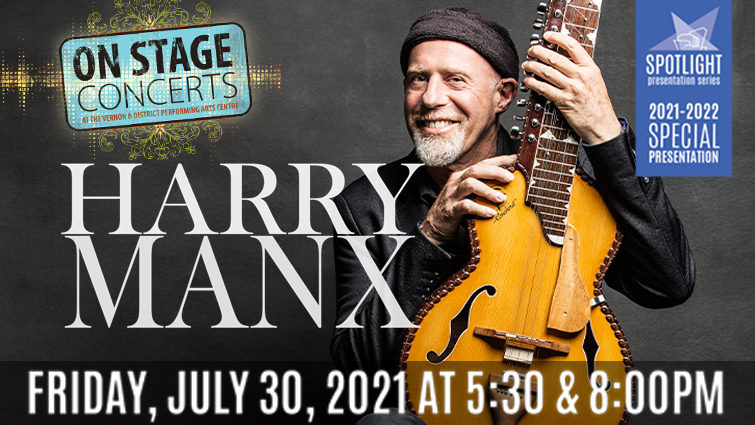 Performing Arts Centre Society Presents
Harry Manx
Solo Show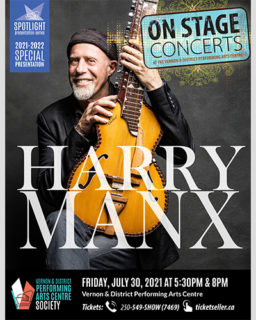 Table for 2 $80.00
Table for 4 $150.00
Table for 6 $210.00
The Vernon and District Performing Arts Centre Society proudly presents Juno nominated Harry Manx for two live shows at the Vernon and District Performing Arts Centre (VDPAC) on Friday, July 30, 2021, at 5:30pm and 8:00pm.

With the audience seated cabaret-style right on the Performing Arts Centre's main stage, our SPOTLIGHT OnSTAGE Concert Series allows for audiences to relax and enjoy a socially distanced concert in this popular and more intimate performance format. This is the first concert to take place in 2021 post-COVID and the first show since the Step 3 reopening plan. In keeping with COVID-19 regulations and restrictions, tables will be sold as a 2, 4 or 6 seat unit.

Multi-instrumentalist and composer Harry Manx has been described as an essential link between the music of the East and the music of the West. He fuses traditional blues with classic Indian ragas to create a distinctive sound. Manx, primarily a guitarist who also plays harmonica and banjo, was born on the Isle of Mann and moved with his family to Canada. He left home in his teens to live in Europe, Japan, India, and Brazil, carefully perfecting his compelling live show on the streets and in cafes and bars before later breaking out to music festivals. Blues music capture his attention when he was still in his teens and he did some roadie work for Willie Dixon, John Hammond, and others. He hit the road hard in Europe, booking himself wherever and whenever he could, as a solo act playing banjo, harmonica and guitar.