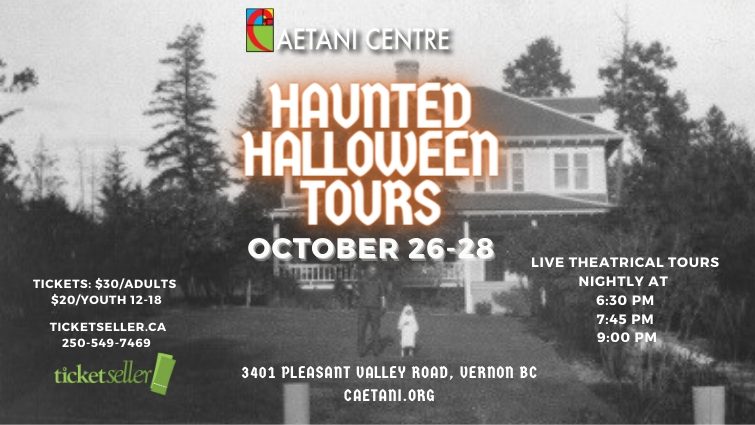 Haunted Halloween Tours of the Caetani House
Caetani House
Thu, Oct 26, 2023 to Sat, Oct 28, 2023 At 6:30pm
Thu, Oct 26, 2023 to Sat, Oct 28, 2023 At 7:45pm
Thu, Oct 26, 2023 to Sat, Oct 28, 2023 At 9:00pm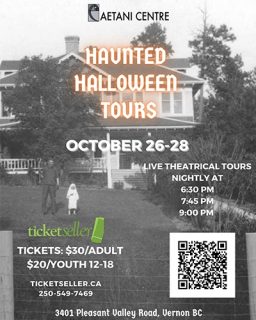 $30 Adult
$20 Youth 18 and under
recommend ages 12 and up
*includes all fees and tax
They're Back! The Caetani Family invites all trick-or-treaters for a spooky tour of their infamous Pleasant Valley Road home.
Meet our hosts Leone, Ofelia, Sveva, and Miss Jüül to find out why neighbourhood kids were only welcomed to the normally closed-off mansion on Halloween.
Learn about family secrets while exploring the nooks and crannies of this 128-year-old Vernon home.

Hear why the women of the house secluded themselves for 25 years and about some of the haunted happenings that have occurred since.

This special theatrical presentation features professional actors Amelia Sirianni as Ofelia, Harrison Coe as Leone, Tiernen O'Keefe as Sveva plus other special guests, and includes a rare peek upstairs, an area normally closed off to the public.

Please be advised that tours are not recommended for children 12 and under or for those sensitive to frightening material. Mobility issues should be taken into consideration as guests will be required to climb stairs.
Be Air Aware! We are a scent free building. Scented products can aggravate health problems for some people, especially those with asthma, allergies and other medical conditions. Please do not wear scented items, thank you for your understanding