Vernon Proms'18 Classical Music Festival
Homage to The Genius: All-Bach concert
Tickets are still available at the door.
$30 Adult
$25 Senior
$25 Student
Kids 12 & under free
TICKET DISCOUNTS: (please call Ticketseller 250-549-7469 to get the discount): 25% off for all 7 ticketed concerts, 15% off for 5 or 6 concerts & 10% off for 3 or 4 concerts.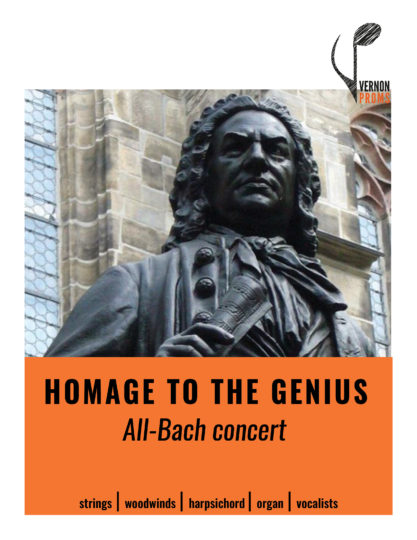 Tickets are still available at the door.
Enjoy the program of some of the most beloved pieces by The Genius of Western music, J.S. Bach. You will hear his music in interpretation which is the closest to how Bach's contemporaries have heard it. Up close and intimate, one instrument or voice per line, in the best acoustical space in town.

Instrumental ensemble:
Susan Schaffer, concertmaster, violin
Denis Letourneau, violin
Ashley Kroecher, viola
Olivia Walsh, cello
Akane Setiavan, oboe
Karmen Doucette, bassoon
Cuyler Page, dulcian
Jim Leonard, harpsichord and organ
with Early Music Okanagan's vocalists
NEW: DESIGNATED SEATS
50 designated seats with soft cushions for each performance. Buy your tickets ahead of time and secure the best seats in the house! The best part: the price is the same as for the general seating!