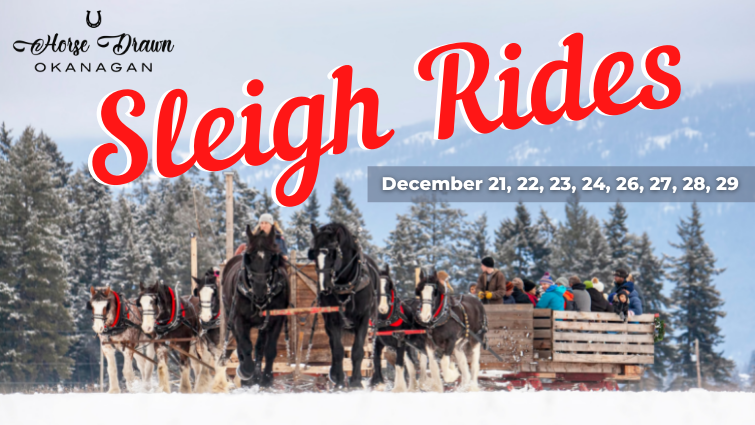 4th Annual
Horse Drawn Okanagan Sleigh Ride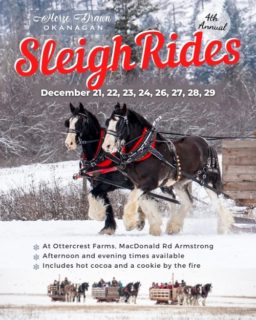 Dates and Times:
December 21 @ 3:30, 4:00, 4:30, 5:00, 5:30
December 22 @ 3:30, 4:00, 4:30, 5:00, 5:30
December 23 @ 3:00, 3:30, 4:00, 4:30, 5:00, 5:30
December 24 @ 3:00, 3:30, 4:00, 4:30, 5:00, 5:30
December 26 @ 12:00, 12:30, 1:00, 1:30, 2:00, 2:30
December 27 @ 3:00, 3:30, 4:00, 4:30, 5:00, 5:30
December 28 @ 3:00, 3:30, 4:00, 4:30, 5:00, 5:30
December 29 @ 3:00, 3:30, 4:00, 4:30, 5:00, 5:30
$15.00 Children 4-12 years
$22.50 Adults
FREE for kids 3 and under (no ticket required)
*includes all fees and tax
PROOF OF FULL VACCINATION WILL BE REQUIRED (2 dose) for individual ticket purchases. Vaccine Passports are not required for a full sleigh booking.
Horse Drawn Okanagan invites you to experience the magic of a horse-drawn sleigh ride this winter. Horses, sleigh bells, hot cocoa, and caroling around the fire - it's a perfect holiday activity for the whole family. Join us at Ottercrest Farms, in the beautiful countryside of Armstrong for a good old-fashioned Christmas. Visit with our adorable goats, share in some photos with family and friends, and take home some holiday gifts too!


Hot chocolate and cookies are complimentary. Sleigh rides are approximately 20mins long, sleighs can seat up to 12 people (reduced capacity due to Covid), and there are as many as four sleighs going at one time. Guests are encouraged to arrive 15 minutes in advance of the scheduled ride time, dress warm, bring a travel mug, and seat cushion or lap blanket.

We strongly suggest booking in advance to secure your seats or we cannot guarantee availability. Please leave dogs in the comfort of your home. Ottercrest Farms is a non-smoking venue. Sorry, there are no refunds due to poor weather or bad road conditions with the exception that the event date or time is cancelled, and we will try first to reschedule your sleigh ride.

Masks are required at all times. Vaccine passports are required for all individual ticket holders and proof of passports will be checked upon arrival. Passports are not required for parties who purchase a full sleigh for a minimum of 12 people to a maximum of 14 people, at the original ticket sale price for adults and kids (empty seats are $22.50 - adult price). Please call Ticketseller (closed on Sat & Sun) at 250-549-7469 to arrange for a group of 14.

There are no designated sleigh seating assignments, as it may appear on the diagram.

Partial proceeds support Canadian Red Cross – BC Fires.

Directions: From Salmon Arm/Enderby take Hwy 97 N to the Pleasant Valley Rd exit through downtown Armstrong. From Kelowna/Vernon, take Otter Lake Cross Rd exit and pass the Tolko mill. There will be signs! Ottercrest Farms is located at the end of MacDonald Rd in Spallumcheen, just 5 minutes from Armstrong, 20 mins from Vernon and Enderby, 40 mins from Salmon Arm and Lumby, less than an hour from the Kelowna airport.
For more information contact Kelly MacIntosh, 250-540-7344, horsedrawnokanagan@gmail.com