Okanagan Symphony
Joie De Vivre!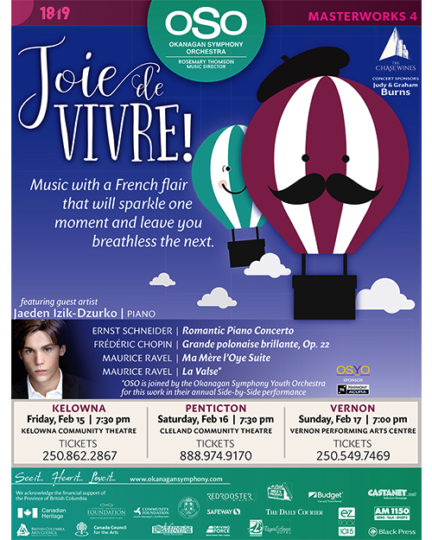 $58.50 Adult
$51.00 Senior 65+
$28.00 Youth 18 under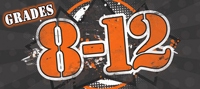 Grades 8 to 12


Save BIG when you book in the first 3 rows
Guest Artist: Jaeden Izik-Dzurko – piano
Okanagan Symphony Youth Orchestra – Dennis Colpitts & Rosemary Thomson – Directors

Camille Saint Saëns Phaéton, Op. 39
Ernst Schneider Romantic Piano Concerto
Frederik Chopin Andante spianato et Grande polonaise brillante, op.22
Maurice Ravel Ma Mѐre l'Oye Suite
Maurice Ravel La Valse, poѐme chorégraphique

The stage will be brimming with energy as we present our annual Side by Side performance with the Okanagan Symphony Youth Orchestra. The French composers we have chosen for this concert are renowned for bringing stories to life in brilliant colour. Inspired by Greek Myth, German Fairy tale and the grandeur of the European ballroom, this music will sparkle one moment and leave you breathless the next. The Okanagan's own Jaeden Izik Dzurko fresh from his Julliard studies will bring two piano concerti to life: Penticton composer Ernst Schneider's sumptuous Romantic Concerto and Chopin's glorious Grande polonaise. Joie indeed!