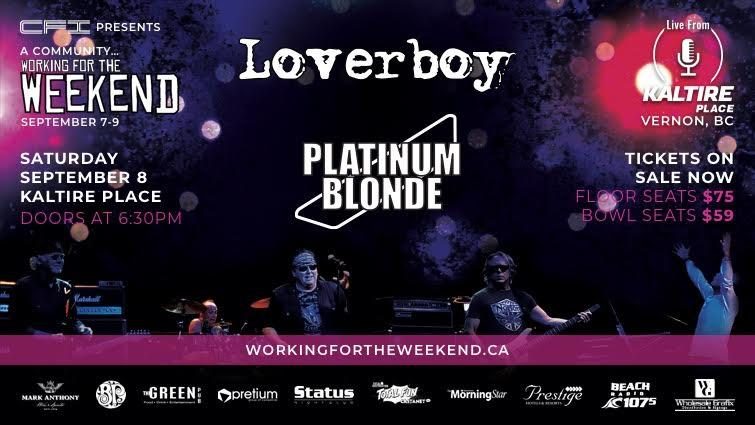 Loverboy
with special guests Platinum Blonde
Attention!
This is a past event,
click here
to view current event ticket listings.
---
Kal Tire Place
Sat, Sep 8, 2018 - 7:30pm
$59 Adult - Stands Sections A thru S
$75 Adult - Floor seating
Loverboy with Special Guests Platinum Blonde

Loverboy have been "Working for the Weekend" touring and delighting audiences around the world. LOVERBOY have sold more than 10 million albums, earning four multi-platinum plaques, 10 Juno awards and were inducted into the Canadian Music Hall of fame in 2009. A string of hits, no stranger to us classic rock fans, include:"Lovin' Every Minute of It", "Working for the Weekend," "This Could Be the Night," "Hot Girls in Love," "The Kid is Hot Tonite," "Notorious", "Turn Me Loose," "When It's Over," "Heaven In Your Eyes" and "Queen of the Broken Hearts", just to name a few Along with Reno and Dean, LOVERBOY still includes original members Doug Johnson on keyboards and Matt Frenette on drums, with Ken "Spider" Sinnaeve , replacing the late Scott Smith on bass, and continues a healthy touring schedule around the world.
1983 started it all when founding members Mark Holmes and Sergio Galli, originally a Police cover band, started writing their own material. They then recruited Chris Steffler to be the band's drummer. Shortly after releasing their first EP, Standing in the Dark, they became a Canadian sensation almost overnight. Their following album Alien Shores reached quadruple platinum status met the addition of their fourth member, Kenny MacLean.Hits like "Situation Critical", "It Doesn't Really Matter", " Somebody' Somewhere flooded the airwaves. "Crying Over You" became their first U.S hit and Canadian fans went crazy. Their following album "Contact" went double platinum.
The original lineup Mark, Sergio and Chris were induced into the Canadian Music Hall Of Fame in 2010. Joined by their new member, Dan Todd, are a welcome addition to the current lineup and are back on stage. Blonde is back and we couldn't be happier!