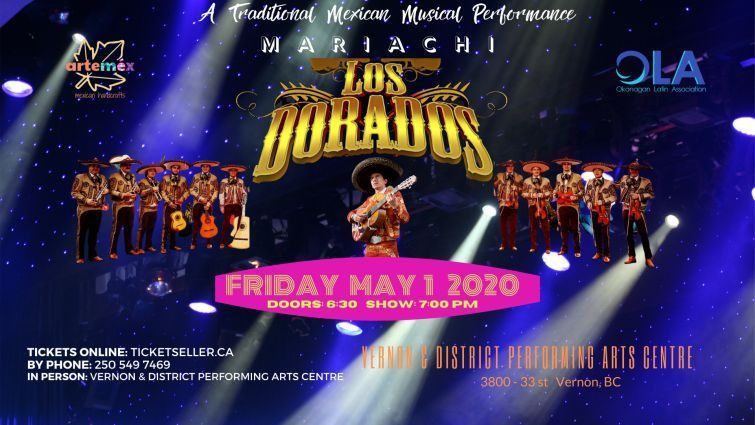 Okanagan Latin Association & Artemex Presents
Mariachi Los Dorados
A Traditional Mexican Musical Performance
Rows A to C
$55 - Adult
$45 - Senior 65+
Row D to P
$45 - Adult
$35 - Senior 65+
$30 - Child 12 and under
Mariachi music dates back to the 18th century and is rich in Mexican culture and heritage. The music has evolved over time in the countryside of various regions of Mexico. Throughout the 20th century Mariachi music has taken on global prominence and popularity. In 2011 UNESCO recognized Mariachi as an Intangible Cultural Heritage.
Mariachi Los Dorados was founded in 2003 by Alex Alegria in Vancouver. The motivation behind Los Dorados has been to share traditional Mexican Mariachi music with Canada. The group itself is a blend of Canadian and Mexican talent who are passionate about expressing the love and respect they feel for Mexican culture. One of the missions of Mariachi Los Dorados is to maintain and promote the beauty of Mexico through their traditional and uplifting music.
Los Dorados have performed at numerous prestigious events including the 2010 Vancouver Winter Olympic Games and the Calgary Stampede. They have toured extensively through Canada performing in BC, Alberta, Ontario and the Yukon. Los Dorados have performed on international stages in California, Las Vegas and in seven states across Mexico. The group has made appearances on multiple television programs, commercials, movies and at international festivals showcasing their unique Mariachi style.
It is an honor to present this group of talented musicians to the Vernon & District Performing Arts Centre for the first time! This two-hour celebration of a popular and beloved aspect of Latino culture is a family friendly attraction for people of all ages. Join us for an unforgettable musical evening!