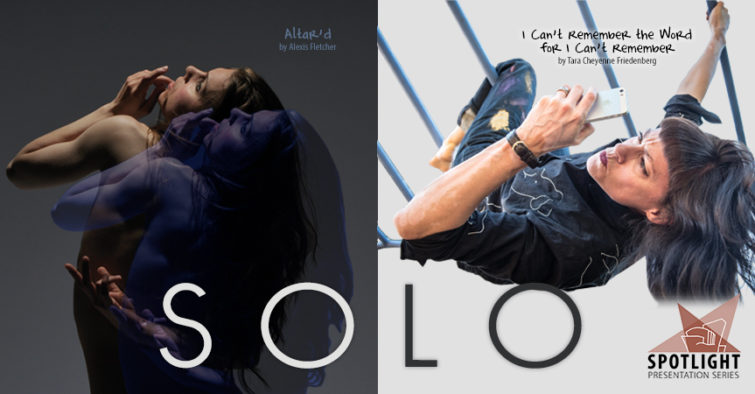 Alexis Fletcher and Tara Cheyenne Friedenberg's
SOLO
Spotlight Dance Series
$30 Adults
$27 Seniors
$25 Students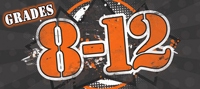 Grades 8 to 12


The Vernon and District Performing Arts Centre Society presents Alexis Fletcher and Tara Cheyenne Friedenberg's SOLO dance at the Vernon and District Performing Arts Centre on Sunday, October 28 at 7:30pm. SOLO is the first show in the 2018/19 SPOTLIGHT Dance Series. The evening will consist of two solo pieces, Altar'd by Alexis Fletcher and I Can't Remember the Word for I Can't Remember by Tara Cheyenne Friedenberg.

Altar'd
"The length and breadth of her formidable artistic voice will definitely be celebrated as a hallmark in Canadian culture." – Tiko Kerr
Bringing Altar'd to our stage, Alexis Fletcher is a dance artist, choreographer, and grassroots arts presenter based in Vancouver, BC. Currently in her 13th season dancing with Ballet BC, Alexis often creates and performs independently, as the co-artistic director of The Dance Deck at Casa Om Presents along with her husband, Sylvain Senez.

After stumbling across a poem by St. John of the Cross, written when he was imprisoned in 1577, Alexis was moved by the profound "mystical experiences" he had while experiencing such hardship and suffering during capture. The introspective yet universal voice in the poem became the starting point for her creation of the piece Altar'd, and the poem is used as a voiceover and central movement phrase in the dance. This 17-minute piece is set to an evocative soundscape by the Icelandic group Sigur Ros, and includes a projected film created by Sylvain Senez.

"I was inspired by the human truth that times of fear and difficulty, often in the form of an unexpected life event, can change us and drive us to go deeper into our own souls than we ever thought possible," says Alexis. "The idea that at some point in our lives the personal, 'solo' voyage inward becomes necessary in order for us to evolve."
---
I Can't Remember the Word for I Can't Remember
"Insanely funny and imaginative genius" – Georgia Straight

Inspired by her own memory battles during the frazzle of motherhood, Tara Cheyenne Friedenberg explores the beautiful difficulty of aging with her dance theatre piece I Can't Remember the Word for I Can't Remember.

With Tara's unique brand of hybrid dance-theatre, which has been described as standup comedy with dance, this show also breaks new ground for the performer. Instead of developing a full-blown character as she's done in the past, here she plays herself. "There's kind of a theme in the show about women and maturity and what it means not to be a 25-year-old stick-figure dancer," says Tara, "and what it means to dance when you're over 40: the beautiful difficulty of aging. Me being on-stage—in some ways I feel it's a fantastic political act to be dancing at 45."

Based in Vancouver, Tara has been creating and performing for the past decade and is known for her expert blending of comedy, dynamic physicality, and character work. Tara has been nominated for several Jessie and Ovation awards for her theatrical choreography and is a 2014 recipient of the Chrystal Dance Prize.

---
As with all our dance shows, we will also be hosting a MASTER CLASS on Sunday, October 28 (time TBA) in the Vernon & District Performing Arts Centre Marie Fleming Hall, taught by Sylvain Senez. This 1.5hour class will consist of barre and centre with a focus on technique and musicality. It is open to professional and advanced students. Pointe shoes are optional. Pre-registration is required, registration opens October 1. Call Ticket Seller (250-549-7469) to register!

Subscriptions to our SPOTLIGHT Dance Series are also available for purchase for only $155. See five professional touring Dance Shows for the price of four!
Generously Sponsored By: