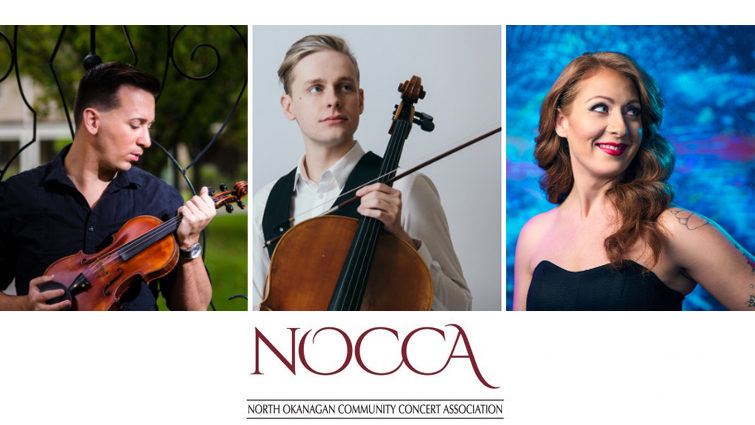 NOCCA Presents
Sords-Severn-Duvall Trio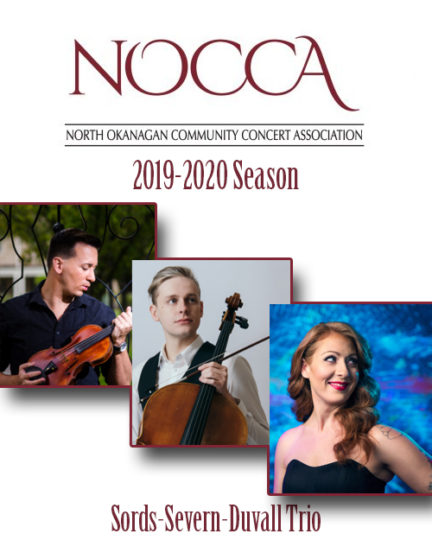 $40 Adult
$20 Youth
'An Evening Celebrating Beethoven' will be presented in honor of the 250th anniversary of Beethoven's birth. The program will include both the C minor and the Archduke trios, also Brahms' lively Hungarian Dance #6 arranged for trio, Ravel's rhapsodic Tzigane for violin and piano, and 'when the world was young' for cello and piano premiered in 2018, composed by Luke Severn. This is a program designed to display the virtuosity of the performers, the mastery of the composers, and the timelessness of this superb music.
Andrew Sords - American-born violinist Andrew Sords has a celebrated career as one of the most prolific soloists of his generation. Having appeared on 4 continents as a concerto soloist and with his piano trio, Sords has been cited for combining visceral virtuosity with a ravishing tone, while international critics endorse Sords as "a fully formed artist" (Kalisz-Poland News), "utterly radiant" (Canada's Arts Forum), and "exceptionally heartfelt and soulful" (St. Maarten's Daily Herald). Closer to home, ClevelandClassical.com gushed: "the stunner of the afternoon was a breathless but magnificently controlled performance of Beethoven's "Kreutzer" sonata, which Sords charged through with giddy aplomb." Sords has received numerous awards and distinctions reflecting his career trajectory, including the 2012 Pittsburgh Concert Society Career Grant and the 2005 National Shirley Valentin Award.

Born in Newark, Delaware, Sords was raised in Shaker Heights, Ohio, and asked for piano lessons at age five. A year later, he began studying violin with Liza Grossman, and continued studies with Linda Cerone, David Russell, and Chee-Yun Kim at the ENCORE School for Strings, the Cleveland Institute of Music, and Southern Methodist University. As a teenager, Sords garnered prizes from concerto competitions, signed with management, and has since collaborated with 300 orchestras worldwide. Of Sords' debut in Australia, the Melbourne Age declared, "Sords made a voluble soloist in the A Major Turkish concerto, forging his statements with an admirably firm clarity and bringing out the work's virtuosity as often as possible. His bowing arm showed an attractive suppleness and an attention to variety of phrasing that made even the episodic finale a pleasure."

In 2019/20, Andrew Sords will tour with the Beethoven sonata cycle, piano trio cycle, Triple Concerto, and Violin Concerto in celebration of the composer's 250th anniversary. These appearances will include far-flung venues such as Australia, Mexico, British Columbia, the Caribbean, Yukon Territory, and across the United States. In recent seasons, Sords has appeared with the El Paso Symphony, Flagstaff Symphony, Brevard Symphony, Pueblo Symphony, Spartanburg Philharmonic, Southeastern Ohio Symphony, Des Moines Orchestra, Grand Junction Symphony, Durham Chamber Orchestra, Longmont Symphony, Guatemala's "Festival Bravissimo", Oakland Symphony, Windsor Symphony, Motor City Symphony, Kalisz Philharmonic (Poland), North State Symphony, Chattanooga Symphony, Cleveland Philharmonic, Boulder Chamber Orchestra, Wisconsin Chamber Orchestra, Toronto Philharmonia, Gulf Coast Symphony, Melbourne Chamber Symphony, and both the Elgar and Dvorak concerti at Toronto's famed Glenn Gould Studio. In 2017, Sords made his UK debut with concerts in Edinburgh and Scotland (Tchaikovsky concerto) with the Glasgow Philharmonia, and his Guatemala City debut (Bruch concerto). In his hometown, Sords returned to his childhood orchestra, the Contemporary Youth Orchestra (Barber concerto), and performances in the Cleveland area include the Cleveland Philharmonic, Solon Philharmonic, Euclid Symphony, Parma Symphony, Shaker Heights Symphony, Heights Chamber Orchestra, Lakeland Orchestra, Earth and Air String Orchestra, Mansfield Symphony, and the Brahms and Schumann sonata cycles for the Trinity Cathedral Concert Series. Sords' July 4th outdoor appearances have included shows with the Wisconsin Chamber Orchestra and an audience of 30,000, while a 2018 collaboration with the El Paso Symphony had 15,000 onlookers - both evenings featured the Tchaikovsky concerto. No stranger to presenting obscure concerti, a debut with the Boulder Chamber Orchestra and the Arensky concerto had Opus Colorado declaring: "[Sords'] remarkably flexible bow arm and relaxed left hand created the impression that he was having no difficulty whatsoever".

As a prolific recitalist, Sords has appeared in La Jolla, Washington, D.C., Maui, New York City, Los Angeles, Chicago, Dallas, and at St. Augustine's (FL) EMMA Series at Flagler College. Sords has toured to Australia on numerous occasions with concerti by Mendelssohn, Mozart, and Vaughan-Williams, as well as recital programs for the Brunswick Beethoven Festival and the Arden Crescent Series. Inspired by his duo and trio collaborations, Sords has united with cellists John Walz, Joseph Johnson, Sawyer Thomson, and Scott Lykins in performances of the Brahms "Double" concerto and appears with his trio on notable series. A 2015 Canada tour with the Mendelssohn Piano Trios and Violin Sonata was reprised with Cheryl Duvall and Luke Severn in an all-Brahms program in Oshawa, Montreal, Guelph, and Toronto - the trio will showcase the Beethoven Trio cycle in 2019/20 in British Columbia, Ontario, the Yukon Territory, and Quebec. First invited by San Miguel de Allende, Mexico's ProMusica Series in 2011, Sords has returned with six varied recitals; performed two programs for West Palm Beach's Norton Museum Series; and toured with an all-French program to numerous venues in the Midwest with Eriko Izumida, pianist. As a frequent soloist in the Caribbean, Sords has appeared in Puerto Rico, Anguilla, St. Maarten, Trinidad and Tobago, Grand Cayman, and the U.S. Virgin Islands, and "STRINGS MAGAZINE" profiled a series of performances with the Trinidad and Tobago Youth Philharmonic. From a recent Cleveland recital, the review enthused: "Expertly performed, he brought a full and rich sound and gave a heroic performance of Ravel's 'Tzigane', powerful and in control of the many notes. Sords impressed with his total command of technique, consummate musicianship and bravura as he tossed of scads of notes and sang out like a diva…he and Izumida kept the audience in the palm of their hands all afternoon." (Cleveland Classical).

A man of diverse interests, Sords has competed in the charity fundraiser "Pittsburgh's Dancing With The Stars" as the first classical artist to do so. Passionate about social causes, Sords has performed numerous times for LGBT outreach, including Bruch's "Scottish Fantasy", the Tchaikovsky, and the Beethoven concerti in collaborations with the Minnesota Philharmonic, the Bay Area Rainbow Symphony, and the Atlanta Philharmonic. Along with Liana Izakadze's World Virtuosi, Sords appeared in Carnegie Hall's Zankel Hall, and will perform the Sibelius and Dvorak concerti in 2019 appearances with the Jackson Symphony and Brevard Symphony. Sords is a popular guest for various media platforms: featured four times on Sirius XM's Derek and Romaine Show and profiled by "OUT Magazine", NPR'S Morning Edition, and hundreds of media outlets, Sords also performed the National Anthem for ESPN2's WNBA Pride Game (2014) and a sold-out Cleveland Indians game at Progressive Field. Sords's recent collaboration with Sean Christopher on the New-Age album "Transcendence" has been a commercial and critical success, with reviews stating: "much of this is owed to the gorgeous and precise playing by Andrew Sords, whose violin adds a thrumming undercurrent of pure life throughout the album's stainless-steel structure." This album is available on iTunes, Amazon.com, and CDBaby.

Sords makes his home in Shaker Heights, Ohio, and can be found on the web at http://www.andrewsords.com.

Luke Severn - Concert cellist, composer, and musical director, Luke Severn possesses a musical voice of great versatility and passion. Noted for his expressive performances and dynamic and engaging personality he is emerging as an artistic tour de force in the Australian musical landscape.

As a soloist, Luke is a champion of both the standard concerto literature and new exciting works for cello and orchestra. In recent seasons he has performed as a soloist with The Monash Academy Orchestra, The Essendon Symphony Orchestra and the Melbourne Sinfonia among others. In 2018, through Spark Youth Dance Company's production of Ariadne, Luke gave the Australian Premiere of the Concerto for Cello and Strings (2008) by British-Bulgarian composer Dobrinka Tabakova.

A highly sought-after chamber musician, Luke has performed in festivals and chamber music series throughout Australia, Europe and North America. Performing alongside duo partner and pianist Elyane Laussade, he performs across Australia throughout the year. He completed a Piano Trio tour of Canada in 2017 with North American virtuosi Andrew Sords, violin, and Cheryl Duvall, piano. He engages in many other chamber ensemble performances as a freelance artist in Victoria, including appearances with the Blackwood Ensemble, Casey Chamber Musicians, and Allotropy String Quartet.

In 2018 Luke and pianist, Elyane Laussade collaborated on what was to be his debut recording project, Humanation. A celebration of music by five different queer composers in commemoration of landmark progress of LGBT rights in Australia. Presented by the Laussade Studio in Melbourne the programme was performed in June of 2018, coinciding with international pride month.

As a composer, Luke's works represent a deep level of empathy towards time, place and emotions, with a particular focus on the intimacy of chamber ensembles. 2018 marked the premieres of two new chamber works, Beneath the Surface for soprano and string quartet (commissioned and premiered by Australian soprano, Kelsey Cotton) and "...when the world was young" for cello and piano. Both works represent a personal reflection on changes experienced through life, both in love and loss and the shared experience of a changing environment. Luke's first full length stage work will be premiered in October 2019 by Spark Youth Dance Company.

A protégé of Russian cellist Karine Georgian, Luke holds a Bachelor of Music degree with First Class Honours from Monash University in Melbourne. Prior to this he studied at the prestigious Victorian College of the Arts Secondary School, under the tutelage of noted Australian chamber musician and pedagogue Josephine Vains, and has performed in masterclasses for Lynn Harrell, Richard Aaron, and Maria Kliegel. Having had some extraordinary teachers and mentors, Luke has become a passionate educator himself and enjoys teaching in his private studio in Melbourne as well as directing many community music initiatives.

in Melbourne as well as directing many community music initiatives.

Cheryl Duvall is a multifaceted pianist with a penchant for musical risk taking and adventure. Equally comfortable in many different musical roles, she regularly appears as a soloist, collaborative pianist, adjudicator, teacher, producer and panelist, and has toured and performed throughout Canada, Europe, Argentina, the U.S and Japan. Cheryl's strong affinity for boundary-pushing and innovative music making led her along with friend and violinist, Ilana Waniuk to co-found the Toronto-based Thin Edge New Music Collective, "One of Toronto hottest and bravest new music collectives" (Michael Vincent - Musical Toronto), now in their eighth season. In her role as Co-Artistic Director of TENMC, she has been at the helm of many large scale collaborative projects, including 'Raging Against the Machine', a collaborative concert, touring and recording project with Montreal-based Ensemble Paramirabo, and 'Balancing on the Edge', a radical collaboration integrating new music with new circus practices into a unique and thought-provoking production. Under the leadership of both Cheryl and Ilana, TENMC has commissioned and premiered over 60 new works for chamber ensemble to date with 9 more slated for their upcoming season and have garnered an exceptional international reputation through tours to Japan, Poland, Italy, Switzerland, Argentina and across Canada.

As a person who is constantly inspired through collaboration and community building within the arts, Cheryl regularly collaborates with many arts organizations, instrumentalist and vocalists, including Essential Opera, soprano Maureen Batt, and American violinist Andrew Sords. She recently appeared in the Peggy Baker Dance Company's production, 'Map by Years', performing solo piano alongside veteran dancer, Jessica Runge. She is also the collaborative pianist for the internationally renowned Oakville Choir for Children and Youth, to which she has toured and competed internationally with gold standings as well as recorded numerous albums of choral repertoire.

Cheryl has performed on the stages of the Canadian Music Centre, Ottawa New Music Creators, Kitchener Waterloo Chamber Music Society, New Works Edmonton, New Music Calgary, Music on Main and The Little Chamber Music Series that Could in Vancouver, Open Space in Victoria, Salle de concert du Conservatoire in Montreal, The Music Room in Halifax, University of Guelph, Wilfrid Laurier University, University of Manitoba, The Music Gallery, Guelph Connections, Clarington Concert Band, the NUMUS, Open Ears Festival, University of Toronto, Ciclo de Música Contemporánea at the Teatro Nacional Cervantes in Buenos Aires, SoundSCAPE festival of new music in Italy, Le Pantographe in Switzerland and The World Choir Games in both Cincinnati and Latvia. She has attended the Casalmaggiore Music Festival in Italy, the Palazzo Ricci masterclass series, the Toronto Summer Music Festival, the World Piano Pedagogy Conference and held three artistic residencies at the Banff Centre for the Arts. Recently, she was shortlisted as the finalist for the 2016 F.M. Hunter Artist Awards in Music through the Ontario Arts Council and Foundation and in 2009, she was awarded a SSHRC grant for her pedagogical research on how to incorporate aspects of the Alexander Technique into lessons with beginner piano students. Besides performing, she maintains a full private piano studio, adjudicates piano competitions across Canada and appears as guest speaker in university classroom and festival panels. Cheryl completed an Honours Bachelor of Music, majoring in Piano Performance and Theory and a Diploma of Chamber Music from Wilfrid Laurier University as well as a Master's of Piano Performance and Pedagogy at the University of Toronto. Her main teachers and influences include Guy Few, Chris Foley, Midori Koga, Carmen Piazzinni, Nina Tichman, Henri-Paul Sicsic, and Anya Alexeyev.