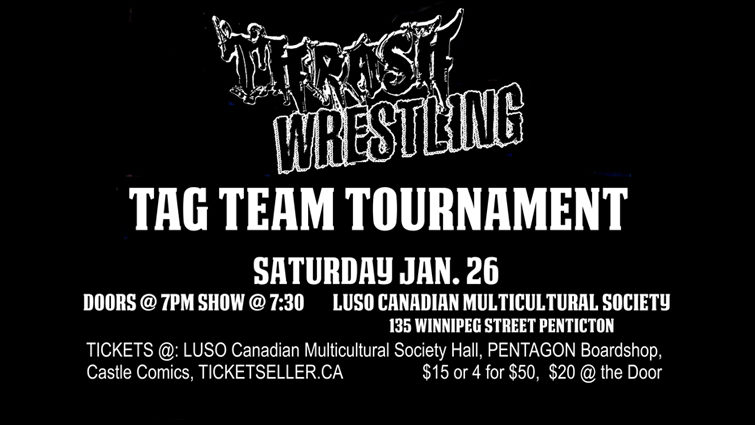 Thrash Wrestling Presents
Tag Team Tournament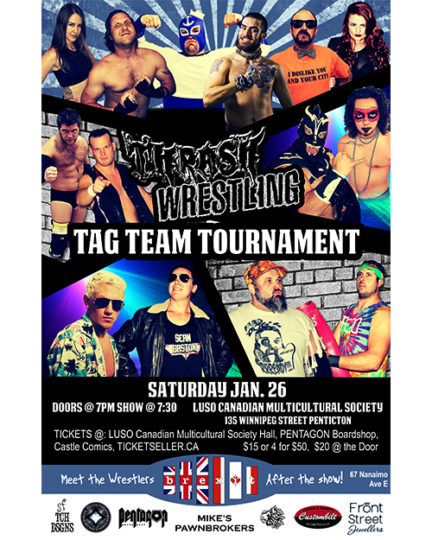 $15 General Admission
What better way to stir things up in the Okanagan than a tournament for the NOW vacated Tag Team Championship!?
With Todd Quality failing to show for the last scheduled title match and Michael More on the shelf due to a torn bicep, the titles have been stripped from the champs, Top Quality, and new champions will be crowned!
New rivalries and alliances are forming going into this event starting with Todd Quality. His NEW tag partner replacing Michael More will be one half of the Millennials (from Invasion Wrestling) and newcomer to Thrash Wrestling, Nick Price!
Also scheduled to contend in the tournament: The "Dudes of Aviation" Sean Gaston and The Blonde Bomber Braydon Goss,
Black Dragon and Ace Redmann Junior "The Dragon Revival," and newly formed "Downward Dogs" MAD DOG Marty Sugar and Davey Deals
Two intergender teams have formed in Slave the Homicidal Maniac and "Vixen of Thrash" Jade (collectively known as Team Slade) and rivalling them "Dastardly" Danni Deeds and his Queen, Scarlett Black!
More announcements and tournament brackets are yet to be announced, and other wrestlers scheduled to appear include "One Man Militia" Codiac Cope, Salty the Seaman, and the "Never Say Die" Chucky Lee Ray!