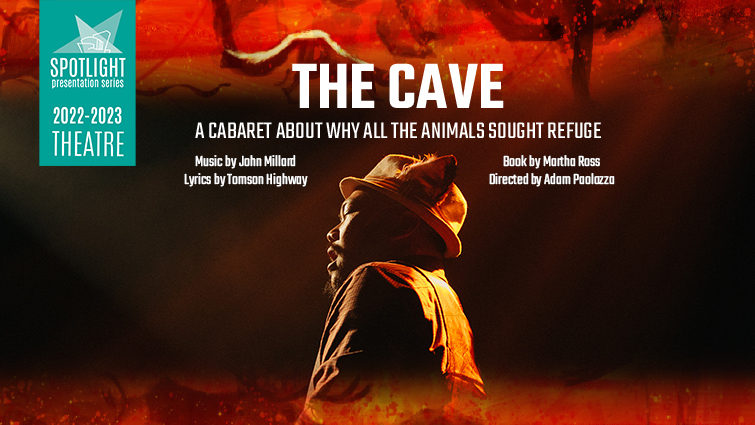 Vernon District & Performing Arts Centre Presents
THE CAVE
A Cabaret About Why All the Animals Sought Refuge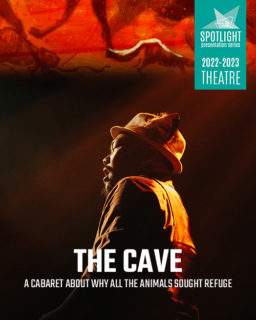 $40.00 Adult
$37.00 Senior
$35.00 Student
Part nightclub, part enchanted forest, part musical cabaret – come, and be transported into The Cave, a dystopian fable about the folly of our actions as the climate crisis rages around us.
A group of animals flee from a vicious forest fire and seek refuge in Bear's cave. Waiting out the inferno, they reflect on their lives, their lost garden, and their impending doom. These unlikely and singed bedfellows share their stories and take comfort in their newfound community while the fire encroaches. They comment, through songs sung in both English and Cree, on their fate and the fate of the world.

This beautiful dystopian cabaret combines haunting music, immersive visuals, and joyous humour into a story that is as captivating as it is timely. Composer John Millard, as the wry and charming emcee, gives context and brings lightness through jokes and stories with his warm self-deprecating playfulness. The six-person band, led by music director Gregory Oh, swings between playful and dark with compositions reminiscent of Tom Waits and Danny Elfman on banjo, accordion, keys, reeds, and percussion.
Music by John Millard
Lyrics by Tomson Highway
Book by Martha Ross
Directed by Adam Paolozza
"The creative trio behind The Cave, Tomson Highway, Martha Ross and John Millard are brilliant. They wield song and humour the way a surgeon wields a scalpel. You are so busy enjoying yourself, you don't feel the cut–not at first. The energy the performers bring to the production is incendiary. Breathtaking!" - CBC