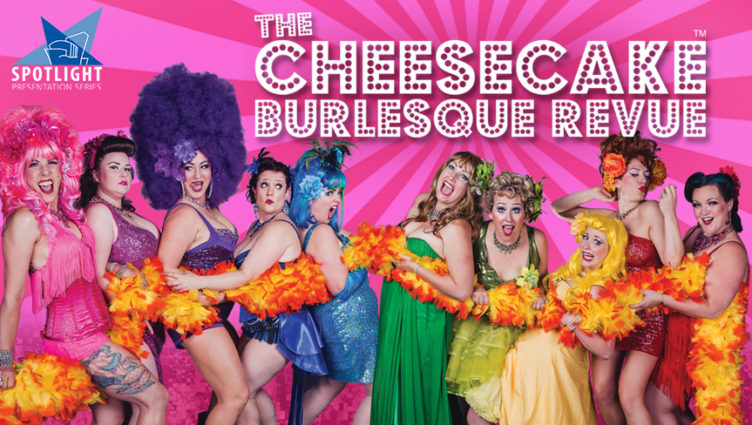 The Cheesecake Burlesque Revue
Spotlight Special Presentation Series
$30 Adult
$27 Senior
$25 Student
Cheesecake Burlesque Revue Teaser from Cheesecake Burlesque Revue on Vimeo.
The Vernon and District Performing Arts Centre Society proudly presents The Cheesecake Burlesque Revue as part of the 2018/19 SPOTLIGHT Special Presentation Series.
Armed with a sassy-silliness and a g-force of glitter, these girls pack a sparkly punch that will make your heart happy and leave you loving the skin you're in!
The Cheesecake Burlesque Revue are multiple award-winners who have dazzled and delighted in Las Vegas, New York, New Orleans, San Francisco, Seattle, Helsinki, Paris, Stockholm, Rome, and Berlin, as well as all across Canada! With influences from cult classics like Priscilla Queen of the Desert to Broadway favourites like Guys and Dolls to imaginative roller coasters like their original Cheesecakes In Space, these girls know how to put on the modern day show-stopper! The Cheesecakes are known for their high-energy acts, standout performers, comedic timing, steamy seductiveness and girl-next-door accessibility.


In 2006, these ladies came together with the desire to create an environment where they could cast off the shackles of their 9-5 jobs and have some silly, sparkly fun. Any civil servant, art teacher, veterinary technician, environmental consultant, or student you meet, may have been out the night before entertaining a crowd, performing for fundraisers, or helping add some sass to an event.

The Cheesecake Burlesque Revue will also be hosting a Sass Class 101:
Unleash your inner diva! Join the Cheesecakes for a 2.5-hour burlesque workshop where participants will learn about the history of burlesque and how to bump, grind, shimmy, shake, and tassel twirl! Spend the afternoon with a group of fabulous, like-minded women and leave feeling great about your body and yourself. One participant in Surrey said "Every woman walked out of there that night with a smile on her face, a strut in her step, and in many cases, some pasties in her purse." Brave and outgoing students with a ticket to the show have the option to join the Cheesecakes briefly on stage during the performance to strut their stuff.

Workshop participants should bring: heels (or shoes of their choice for dancing), clothing comfortable for moving around, and feel free to GLAM IT UP!!! Boas, gloves, and tassels will be supplied for participants to use.

Women only - Ages 18+
Pre-registration is required, space is limited! Available over the phone through Ticket Seller (250-549-7469).
Generously Sponsored By: