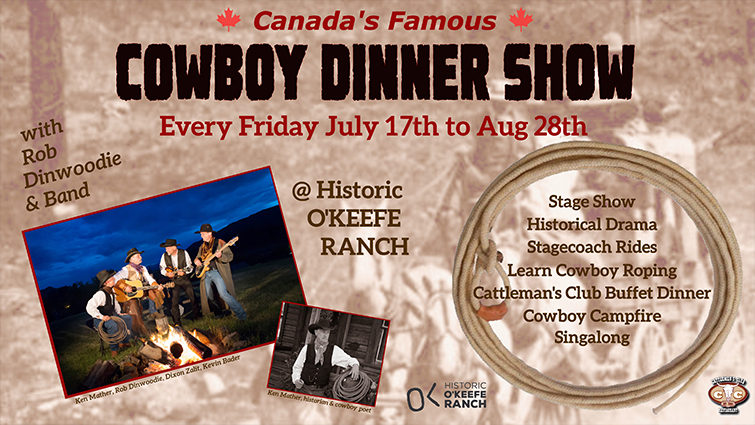 O'Keefe Ranch Presents
The Cowboy Dinner Show : The Last of the Old Time Cowboys
Every Friday July 17-August 28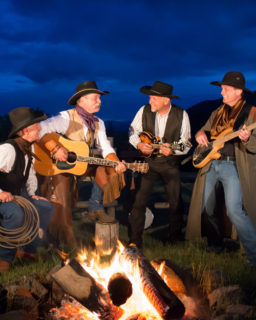 $57.75 Per Person
He was only eight years old when he trailed his first herd of cattle from the Okanagan to the land of modern-day Alberta. This was before the paved highways, when the only passage through the Rockie Mountains was an old trail that the indigenous people used to trade with the prairie tribes. Thus, was the beginning of the life of this cowboy who was noted for his ability in the saddle and with the cattle he managed for almost a century. Known by the community of the south Okanagan as the "last of the old-time cowboys", he had spanned a part of history that saw the need for the working cowboy develop and wain with industrialization.

This year the Cowboy Dinner Show celebrates the contribution that Valentine Carmichael Haynes (Val) made to the history of the working BC cowboys. Rob Dinwoodie and his band will once again bring stories to life through songs that are dedicated to these men and women of the open range. The show is in its twelfth year at the ranch and folks have come to appreciate the experience of the Cowboy Dinner Show. Joining Rob is well known historian, author and cowboy poet, Ken Mather, will thread the history through his cowboy poetry and vast knowledge of this historical era.

Drama has been an important part of telling different stories of the cowboy and this year will not disappoint. Characters like Judge Haynes of Osoyoos crossing, Newman Squires, trail boss for the Gang ranch and of course Val Haynes, son of the Judge will join the troupe on stage to tell this incredible story.

The stage show will begin after a delicious and hearty meal of west, served up by Cattlemens Club restaurant. Ride the authentic BX Express stagecoach and learn how to rope like a cowboy as cowboy Rob provides an opportunity not just to hear about the cowboy, but to be one for the night.

What cowboy evening would be complete without a cowboy campfire under the stars. Join the group as they sing songs and bring the evening to a close "the cowboy way". So, what are you waiting for? Put on your boots, grab your hat and join us for this fun-filled family event this summer at the O'Keefe Ranch.
More Information