Theatre BC's Ozone Festival
The Fighting Season
KCTS Kelowna Theatre Society: Kelowna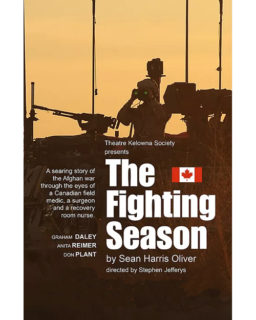 $25 Adult single show
$69 Three Day Adult pass
$110 Five Day Adult pass

When booking your pass, please indicate either the date or title of the shows you would like to attend in the notes area when booking, or you may call us at 250-549-7469.

Theatre Kelowna Society is proud to present Sean Harris Oliver's "The Fighting Season"


The searing story of the Afghan War as seen through the eyes of a Canadian orthopaedic surgeon, a field medic and a triage nurse. The surgeon is Dr.Jack Oliver from Kelowna and this account is recorded and told by his son, playwright Sean Patrick Oliver.