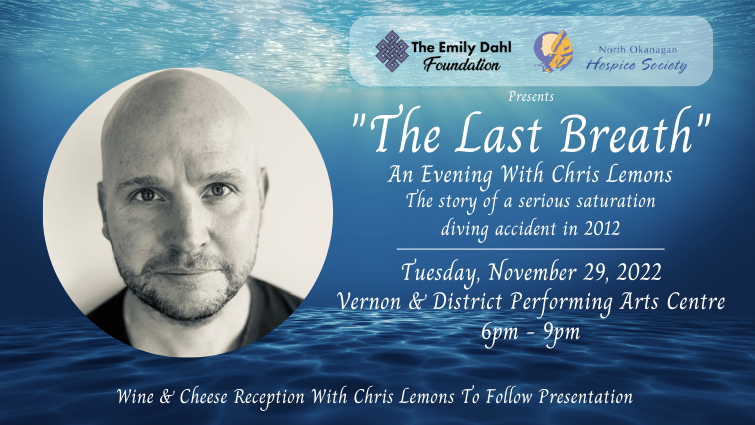 LAST BREATH - CHRIS LEMONS
WITH OPENING DANCE PERFORMANCE "HOPE" BY AVERY AND EMI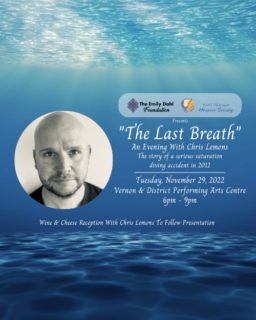 The story of a serious saturation diving accident in 2012
$20 Per Person
Chris Lemons' story has been made into a documentary film. A North Sea diver cheated death after a catastrophic computer failure saw his boat drift away and his oxygen supply cut off. Chris Lemons lay almost 100m (about 300ft) under the surface, resigned to ending his days in the dark water.
It is with excitement that we announce that Avery and Emi, who recently performed at Polson park, will perform at The Vernon Performing Arts Centre on behalf of The Emily Dahl Foundation and North Okanagan Hospice Society.

They will perform an Opening Dance at The Chris Lemons Event
What is the purpose of this human life?
We should live deeply so the time here doesn't go to waste.
We should not wait to answer this question.
Come and support Chris Lemons and The Emily Dahl Foundation in any way that you can - with your energy and presence.
Focus on the quality of life; not just living it to pass the days.
The quality depends on how deeply we live each moment and not the emotional and material comforts. Money, power, prestige may not provide this quality or happiness.
Wine & Cheese Reception With Chris Lemons To Follow Presentation