Vernon Proms'18 Classical Music Festival
The Oulde Almaine: Renaissance & Baroque music with Oregon Renaissance Trio
Laura Kuhlman, Gayle Neuman and Phil Neuman (USA)
$27 Adult
$23 Senior
$23 Student
Kids 12 & under free
TICKET DISCOUNTS: (please call Ticketseller 250-549-7469 to get the discount): 25% off for all 7 ticketed concerts, 15% off for 5 or 6 concerts & 10% off for 3 or 4 concerts.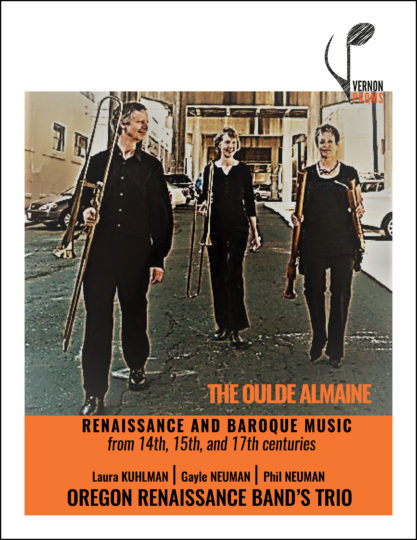 The internationally renowned Early Music specialists, multi-instrumentalists and instrument-makers, Laura Kuhlman and Gayle & Phil Neumans, bring alive music from 14th, 15th and 17th centuries. You will sample recorders, shawms, bagpipes, dulcians, bassanello, rackets, tartolds, sordunes, voice, and strings and percussion instruments!
Laura, Gayle, and Phil are members of The Oregon Renaissance Band whose recordings include "Now make we joye" and "Carnevale."
NEW: DESIGNATED SEATS
50 designated seats with soft cushions for each performance.
Buy your tickets ahead of time and secure the best seats in the house!
The best part: the price is the same as for the general seating!