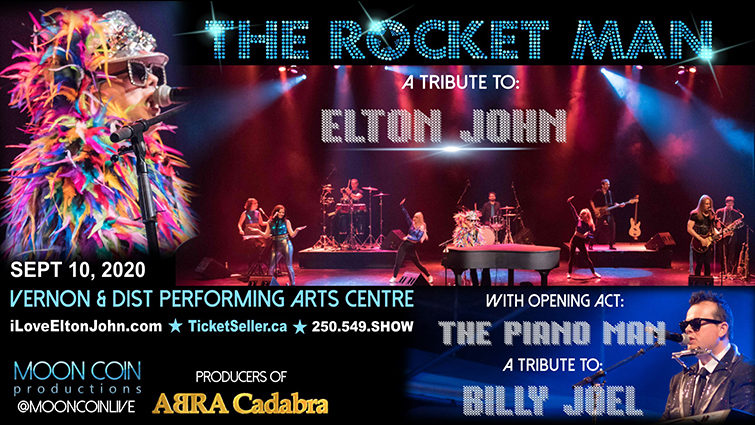 Moon Coin Productions Presents
The Rocket Man - Tribute to Elton John
With Opening Act The Piano Man - A Tribute to Billy Joel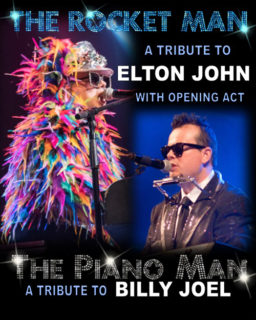 "Dear Ticket Holders,
Thank you for purchasing tickets to The Rocket Man / The Piano Man show that was scheduled at the Vernon & District Performing Arts Centre on April 7, 2020. As you may be aware, the show has to be POSTPONED due to the COVID-19 outbreak and the Government of British Columbia's ban on all events of over 50 people. Our whole team is sad and disappointed that we were not able to perform the show for all of you, but of course everyone's health and safety is top priority. We are excited to return to Vernon and will be announcing the rescheduled show date ASAP! Please hold onto your tickets as they will be valid for the rescheduled date! As you can imagine this unfortunate circumstance has hit Artists, Presenters, Theatres and Crew members very hard so your support, patience and understanding would mean so much to all of us during this difficult time. Our love and compassion goes out to everyone being impacted by this tragic global event. Wishing everyone health and strength during these difficult times, we are all in this together. We look forward to sharing music and fun times with you in the near future!

For more information about our shows and rescheduled dates, please visit mooncoinproductions.com or on social media @mooncoinlive and we will do our best to post updates as soon as we have them!

Sincerely,

Moon Coin Productions & The Rocket Man / The Piano Man Team"
Your Tickets for Postponed or Cancelled Events:
Our Ticket Seller box office has set the following policies for current ticket-holders:

Postponed Events:

Ticket Seller will hold your tickets and notify you directly about re-scheduled performance dates as soon as we know them. Artists are wanting to re-schedule and this process is underway. Please check Ticketseller.ca regularly for updates.

If re-scheduled performance dates do not work for you, as a not-for-profit box office, Ticket Seller is asking ticket-holders to take a credit on their account and apply it to future events instead of an immediate refund.

Refunds incur added non-recoverable banking and credit card charges that altogether would have a significant financial impact on Ticket Seller.

Cancelled Events:

To date commercial touring events and our Society's own SPOTLIGHT Shows are re-scheduling and therefore are postponed. New dates to be confirmed shortly.

For those shows that do cancel, ticket-holders will have the same option to take a credit on their account for future events.

IF taking a credit on your Ticket Seller account is not possible at this time, please consider making a donation to the not-for-profit for any of their cancelled events.

For refund requests, we will be processing refunds in stages and in consultation with booking agents over the coming days and weeks.

Thank you for your patience and support,


Ticket Seller Box Office
(250) 549-7469
Toll Free: 1-866-311-1011
More Information