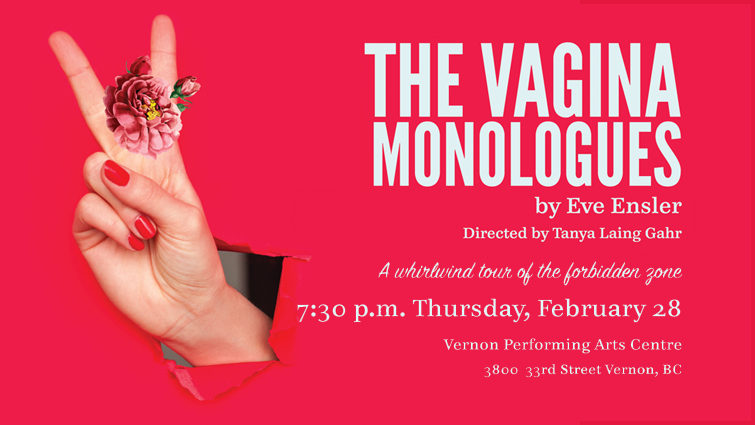 VDay 2019: Until the Violence Stops
The Vagina Monologues
Directed by Tanya Laing Gahr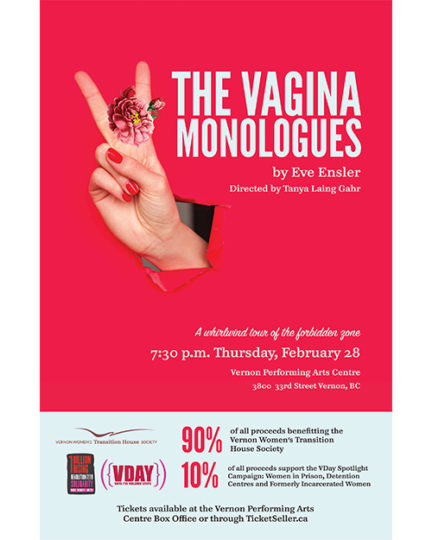 $35 Adult
$30 Senior
$30 Youth 18 & Under
Directed by Tanya Laing Gahr
V-Day 2019 is a fundraising event benefiting the Vernon Women's Transition House Society. Directed by Tanya Laing Gahr (Calendar Girls), this production promises to be a funny, touching, challenging and ultimately empowering show featuring a diverse cast of local women - some actors and some activists. You will laugh, you will cry and you will leave with a greater appreciation for powerful women and their stories.

Twenty years since Eve Ensler's play The Vagina Monologues shattered taboos, the stakes could not be higher. V-Day is a movement that grew out of the untold stories of women. We believe women. We believe in their right to tell their stories and we believe their stories need to be heard - nothing is more powerful.

V-Day is a global activist movement to end violence against women and girls*. V-Day is a catalyst that promotes creative events to increase awareness, raise money, and revitalize the spirit of existing anti-violence organizations. V-Day generates broader attention for the fight to stop violence against women and girls, including rape, battery, incest, female genital mutilation (FGM), and sex slavery. Learn more at vday.org

*Women and girls is an inclusive term reflecting all those who were assigned and/or identify as female.