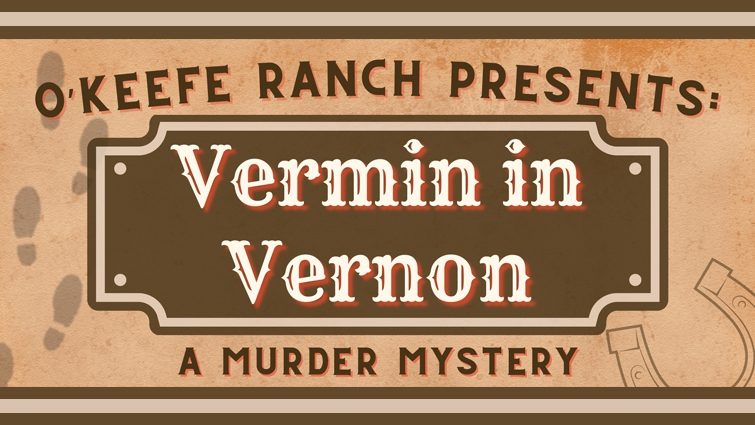 Vermin in Vernon: An O'Keefe Ranch Murder Mystery
7:00 PM - 9:00 PM doors open at 6:30 PM
Attention!
This is a past event,
click here
to view current event ticket listings.
---
O'Keefe Ranch
Thu, Sep 14, 2023 At 7:00pm
Fri, Sep 15, 2023 At 7:00pm
Sat, Sep 16, 2023 At 7:00pm
Thu, Sep 21, 2023 At 7:00pm
Fri, Sep 22, 2023 At 7:00pm
Sat, Sep 23, 2023 At 7:00pm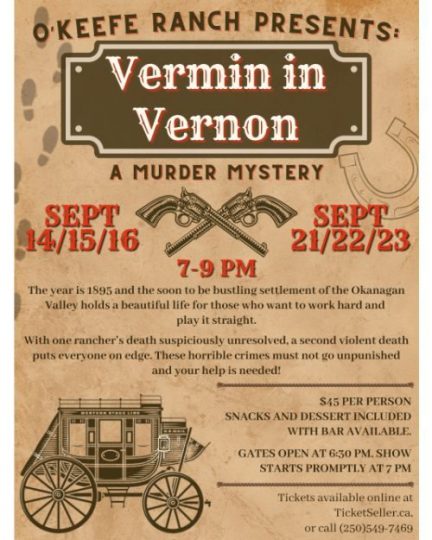 $45.00 Per Person
*Includes fees & Taxes
Murder Mystery is back at Historic O'Keefe Ranch!
O'Keefe Ranch is excited to announce the return of one of our favorite events--Murder Mystery. Enjoy the sordid and shocking tale of Vermin in Vernon while you wander throughout the Ranch and try to guess for yourself what occurred there!

The year is 1895 and the soon to be bustling settlement of the Okanagan Valley holds a beautiful life for those who want to work hard and play it straight. With settlers moving in and good ranch land becoming a precious commodity, goodwill can only last so long. With one rancher's death suspiciously unresolved, a second violent death puts everyone on edge. The horrible crime must not go unpunished, and your help is needed!

Snacks and dessert included. Bar available.
Gate opens at 6:30 p.m. Show starts promptly at 7:00 p.m.
Please wear walking shoes and weather appropriate attire.
No recording of the Play is permitted.