Caravan Farm Theatre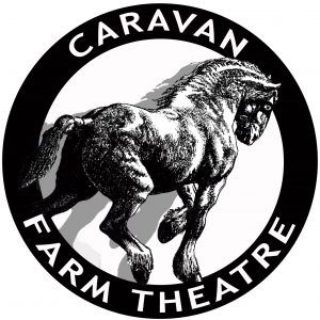 Caravan Farm Theatre is a professional outdoor theatre company based on an 80 acre farm, 11Km NW of Armstrong BC.
Hailed as a national treasure, Caravan Farm Theatre is one of Canada's premiere professional outdoor theatre companies, and has been entertaining audiences young and old, from near and far, since 1978.
There is no theatre building – just the great outdoors. Productions have been staged in nearly every corner of the farm – in a field, in the pines, in the barn or the riding ring. The shows range from classics like Shakespeare and Brecht, original works like Horseplay and Cowboy King. Annual productions include a Fall shadow play, a Winter one-act sleigh ride show, and in Summer, a full length musical.
We make our theatre meaningful by creating original works that explore political and social issues, and whose settings, characters and language are a reflection of the contemporary rural British Columbian experience. We harness the energy and integrity of the classic narratives to lend universality to the context of our rural here and now. Thus we can have a Bluegrass Opera based on the story of Faust, a modern western inspired by Tennyson's Idylls of the King, and a lumber yard Joan of Arc – epic stories full of high stakes and high emotion, dressed in the clothes of our contemporary experience. Our relationship to the classic texts is likewise fueled by a desire to explore those works whose themes and atmospheres connect to our life and times.
We make our theatre popular by telling these stories in an action packed, visually exciting manner – incorporating music, mask, physical comedy, horses and trucks, dogs and kids, whatever it takes to grab the audience by the coat and take them for a ride. We want to make theatre a vital experience, and feel the way to do that is to engage, to thrill, to involve. By accessing the energy of the rodeo, the celebration of the fall fair, and the ritual of the Easter parade, we aim to wed narrative with spectacle, high drama with honky-tonk, reflecting the rural experience back to the world with sophistication, complexity, boldness and originality.
The property was purchased in 1978 to function as a stud farm and base from which to launch the horse drawn touring productions of the Caravan Stage Company, headed by Paul Kirby and Nans Kelder.
In 1984 the touring faction split from the farm to pursue life and theatre on the road, and, under the leadership of Artistic Director Nick Hutchinson, Caravan Farm Theatre was created at the Spallumcheen property and so began producing a mix of original and classic works for local audiences, setting the tradition of the Caravan Farm Theatre that we know today.
In 1989 the company harnessed the motive power of their Clydesdales and began staging the hugely popular winter sleigh ride show. Nick stepped down in 1993 and was replaced by an interim group, who in 1994, installed Allen Cole as artistic director. When Allen stepped down in 1998, Estelle Shook and Jennifer Brewin ran the company as co-artistic directors, staging a mix of adaptations and original works. In August of 2005, Jennifer Brewin stepped down as co-artistic director; Estelle Shook continued on as the sole artistic director of Caravan Farm Theatre. In September 2010 Courtenay Dobbie assumed the role of artistic director.
Map
Upcoming Events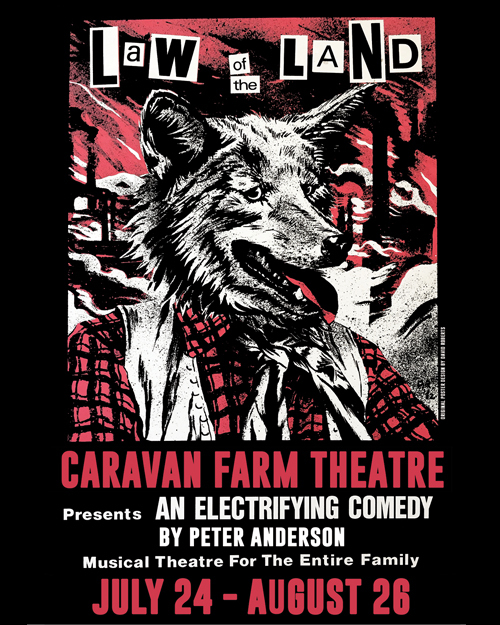 Caravan Farm Theatre
Tue, Jul 24, 2018 to Wed, Jul 25, 2018 - 7:30pm
Fri, Jul 27, 2018 to Sun, Aug 26, 2018 - 7:30pm

A fast-paced musical farce about energy projects, set in a fictional BC town – a place where coyotes morph into men, cowboys fall in love with environmentalists, crows wax philosophical, and the animals put man on trial.