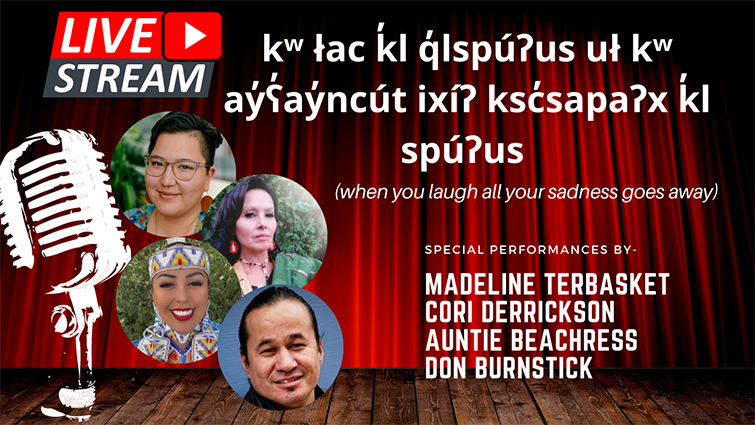 When you laugh, all your sadness goes away
Thursday, September 30th at 6:30pm
Please join us for a livestreamed performance kʷ łac k̓l q̓lspúʔus uł kʷ ay̓ʕ̓ay̓ncút ixíʔ ksc̓sapaʔx k̓l spúʔus (when you laugh all your sadness goes away) featuring the Sylix Artists Madeline Terbasket, and Cori Derrickson.
Come laugh with the hilarious Tonia Jo Hall as Auntie Beachress, coming to us all the way from North Dakota.
And finishing off the evening is Don Burnstick, Cree from the Alexander First Nation located outside of Edmonton, Alberta. Whom you may know from CBC's The Debaters and the Winnipeg Comedy Festival.
Running Time: 2.5 Hours
Generously Sponsored By:
OKIB Education, Language and Culture
OKIB Health
Corner Stone Dental
Progrus Construction
Okanagan Group of Companies
Tolko