North Okanagan Community Concert Association
Diversity... and excellence
A concert series presented by the
North Okanagan Community Concert Association
61st Season, 2017-2018
Season Events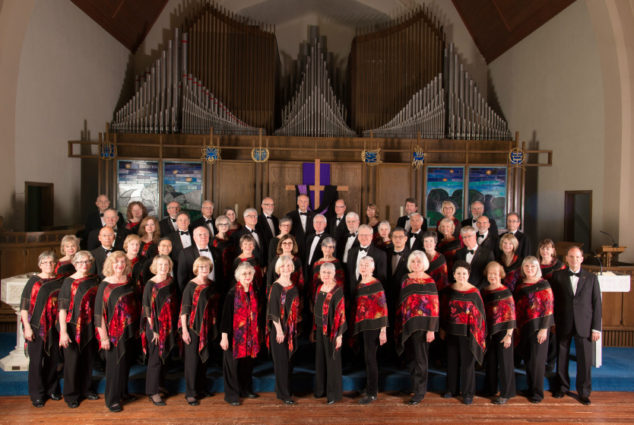 North Okanagan Community Concerts Association
NOCCA presents Enchor
Choral Ensemble
$40 Adult
$20 Youth
EnChor, an auditioned SATB choir, was formed in the summer of 2007 by the late Dr. Diane Loomer to encourage "senior singers" to continue to use their talents, sharpen their brains and "keep them off the streets on Friday mornings." EnChor succeeded beyond her dreams. Within three years our reputation earned us an invitation to Podium 2010, the biennial gathering of Canada's leading choral conductors, and entrée to the renowned invitation-only international choral festival, Festival 500 Sharing the Voices 2011 in St. John's Newfoundland. EnChor was the core choir at the BC Choral Federation's Chorfest May 2014. We performed for the first time at Vancouver's Bard on the Beach in July 2014 and appear annually with the Vancouver Symphony Orchestra.
Our Artistic Director, Gerald van Wyck, is well known in the Canadian choral community for his work with singers of all ages. His innate musical talent, versatility and tireless energy are shared at Vancouver Community College, where he lectures in Music History, teaches Choral and Orchestral Conducting, and works with the Madrigal Singers, as well as at West Vancouver United Church where he has been Minister of Music for 28 years. He is also the founder of the Pacific Spirit family of choirs on the North Shore. For over 13 years Gerald was Music Director of the British Columbia Boys Choir, with whom he toured and recorded extensively. Recently he has served as Assistant Conductor to Lion's Gate Sinfonia Orchestra, and the Vancouver Island Symphony Orchestra, and for five years was conductor of the Vancouver Island Opera Association.
Some Audience Feedback
"Filled my heart to the brim. My cup is overflowing."
"A wonderful mix of music. It was over far too quickly."
" What a joyfully strong and good group of singers you have. Congratulations. People loved the sense of high energy."
"I really liked the surround sound-found it very inclusive."
"You were radiating joy-it seemed to be emanating from your pores."
"Thanks for a wonderful concert. It was a joyful, playful, peaceful and beautiful evening. Inspiring!"