North Okanagan Community Concert Association
Diversity... and excellence
A concert series presented by the
North Okanagan Community Concert Association
67th Concert Season • 2019 - 2020
$125.00 Adult
$62.50 Youth 18 and under
Season Events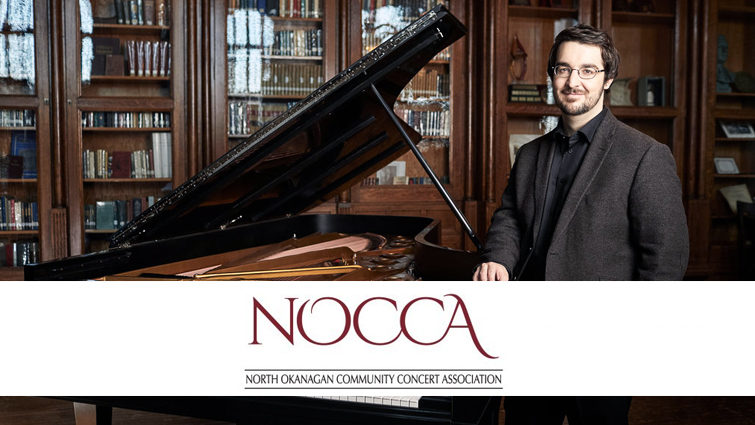 NOCCA Presents
Charles Richard-Hamelin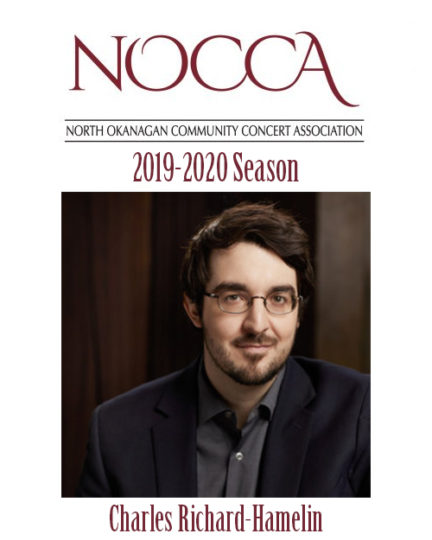 $40 Adult
$20 Youth

Silver medalist and laureate of the Krystian Zimerman Prize at the 2015 International Chopin Piano Competition in Warsaw, Canadian pianist Charles Richard-Hamelin is standing out today as one of the most important musicians of his generation. In 2014, he also won the second prize at the Concours Musical International de Montréal and the third prize at the Seoul International Music Competition in South Korea. Charles is the recipient of the Order of Arts and Letters of Quebec and the prestigious Career Development Award offered by the Women's Musical Club of Toronto.
He has appeared in various prestigious festivals including La Roque d'Anthéron in France, the Prague Spring Festival, the "Chopin and his Europe" Festival in Warsaw and the Lanaudière Festival in Canada. As a soloist, he has performed with more than fifty ensembles including the main symphony orchestras of Canada (Montréal, Toronto, Ottawa, Métropolitain, Québec, Edmonton, Calgary…) as well as with the Warsaw Philharmonic, Sinfonia Varsovia, Singapore Symphony Orchestra, the Korean Symphony Orchestra, OFUNAM (Mexico), Les Violons du Roy and I Musici de Montréal. He has played under the baton of renowned conductors such as Kent Nagano, Antoni Wit, Vasily Petrenko, Jacek Kaspszyk, Aziz Shokhakimov, Peter Oundjian, Jacques Lacombe, Fabien Gabel, Carlo Rizzi, Alexander Prior, Giancarlo Guerrero, Christoph Campestrini, Lan Shui and Jean-Marie Zeitouni. Charles Richard-Hamelin is a graduate from McGill University, the Yale School of Music, the Conservatoire de musique de Montréal and has studied with Paul Surdulescu, Sara Laimon, Boris Berman, André Laplante et Jean Saulnier.

His first solo recording, which features late works by Chopin, was released in September 2015 on the Analekta label and received widespread acclaim from critics throughout the world (Diapason, BBC Music Magazine, Le Devoir) as well as a Felix Award (ADISQ). A second album, recorded live at the Palais Montcalm in Quebec City with music by Beethoven, Enescu and Chopin, was released in the fall of 2016 and also had a very positive welcome (Gramophone, La Presse, The WholeNote). The first volume of the complete Beethoven violin sonatas with Andrew Wan, concertmaster of the OSM, was released in the fall of 2018 and his next projects include both Chopin Concertos with the Montréal Symphony Orchestra and Maestro Kent Nagano.

What the media says…

"One of the main points of interest of the finals was to compare 24-year-old Charles Richard-Hamelin to international competitors. He did wonderfully well. First, for his rich and warm sound. Then, for his integrity and humble expressiveness. His hands seemed to caress and melt into the keyboard." — Christophe Huss, Le Devoir (June 4, 2014)

"Charles Richard-Hamelin ended the semis with a superbly absorbing concert where he seemed to follow his hands like a child after a butterfly. After an astonishing Pour le Piano by Debussy and some sweetly imaginative Scriabin, he performed Chopin's Sonata No. 3 opulently and with unbelievable ease. He transmits love for the instrument." — Lev Bratishenko, The Gazette (June 1, 2014)

"Charles Richard-Hamelin immediately captured our interest with a depth of musicianship and maturity that was evident from the opening of the Bach Partita. The tone that he produced from the piano was beyond the capabilities of the actual instrument. In turn, he created sounds that were orchestral and soloistic, and wove intricate and beautifully voiced lines as a seasoned string quartet might. His structural and musical understanding of the large-scale Chopin sonata was exceptional, and as one juror remarked "perhaps one of the finest performances of this work I have ever heard on any professional stage"." — Press release from the jury of the 2015 WMCT CDA Competition (Midori Koga, Kerry Stratton, Wiwona Zelenka) (May 7, 2015)

"The newcomer is already a pianist of high calibre, with an extremely solid technique, a vivid musicality and a great care for sonority." — Claude Gingras, La Presse (July 8, 2010)

"Charles Richard-Hamelin went for an intimate bonding with Rach 2 that transformed the concerto into a mesmerizing symphonic fantasy." — Laurence Vittes, The Huffington Post (June 6, 2014)

"Charles Richard-Hamelin's delicate, well-articulated and stylistically appropriate touch could be observed in a marvelous performance of Mozart's G-major piano trio." — Jens Christian Hansen, Viborg Stifts Folkeblad (Denmark) (August 21, 2014)

"Pianist Charles Richard-Hamelin was especially impressive driving the Chopin concerto with flair." — Sujata Dey, roverarts.com (May 2, 2014)

"Richard-Hamelin is a supremely artistic, highly sensitive yet thoroughly masculine young pianist, whose strikingly original ideas remain true to the spirit of Chopin." Patrick Rucker, December 2016

"Performing during the first night of the finals, he chose Rachmaninoff's Piano Concerto No. 2 in C minor. With precision and a palette of nuances, he led the audience through a musical journey, brimming with musicality and sustaining the tension throughout. In the adagio, Richard-Hamelin revealed a softer side and created a crystal-like melody. He also succeeded in showcasing multiple contrasting voices. One hopes to hear him in concert more often during the upcoming years." — Christine ML Lee, La Scena Musicale (October 2014 Vol. 20-2)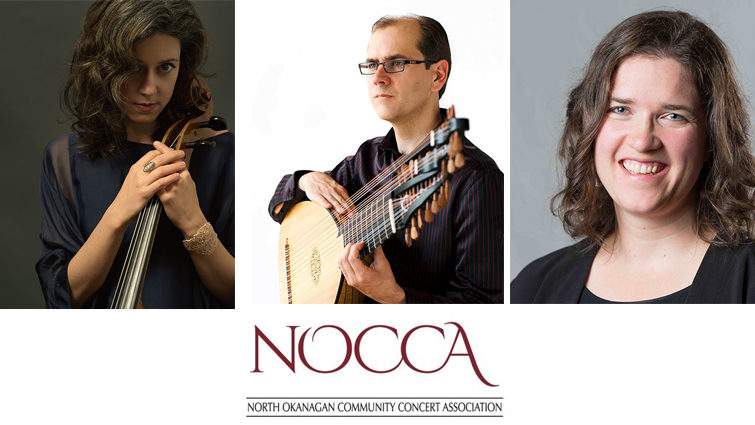 NOCCA Presents
Il Violoncello Italiano!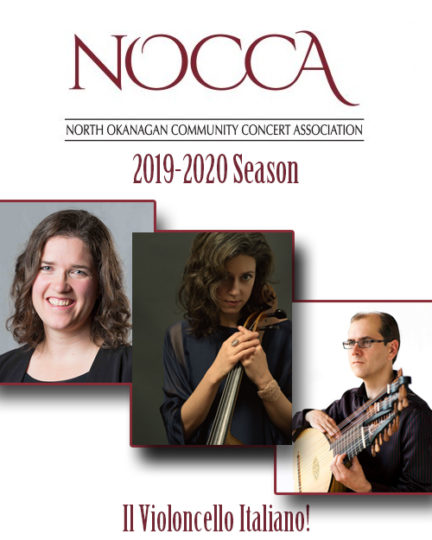 $40 Adult
$20 Youth
Il Violoncello Italiano! celebrates the cello music of the Italian Baroque's best-known composer, Antonio Vivaldi, alongside his cellist colleague Antonio Vandini. The program also presents cello sonatas from thirty years before Vivaldi when Milanese cellist Angelo Maria Fiore wrote some of the very first cello sonatas, and more than thirty years after Vivaldi with music from Giuseppe Maria Dall'Abaco. The Trio will also perform a piece composed by current Canadian composer, Maxime McKinley. Included in the program will be a solo harpsichord Toccata by Scarlatti, and a solo archlute suite by Zamboni.
Elinor Frey
Fascinated with the cello's origins and the creative process of new music, Elinor Frey plays both period and modern instruments. Frey's honors include a US-Italy Fulbright Fellowship where she studied baroque cello with Paolo Beschi, the SSHRC Canada Graduate Scholarship, and American Musicological Society and Canada Council for the Arts grants facilitating her work on Italian cello music. In recent seasons she has performed with Ensemble Caprice, Tafelmusik, Les Idées hereuses, and Bradamante, as well as with her quartet, Pallade Musica, grand prize winners of the 2012 Early Music America Baroque Performance Competition and second prize winners in the 2014 International Van Wassenear Competition in Utrecht.
Frey's debut album, Dialoghi, is titled for the solo piece written for her by Steven Stucky. Her two releases on the Belgian label Passacaille include the upcoming Berlin Sonatas with Lorenzo Ghielmi on fortepiano and the recent release, La voce del violoncello, praised for its "careful scholarship and brilliant layering of moods and tempos" (Toronto Star) and for the "honest, reflective beauty of her music making" (Strings). Her performance of this program was the winner of the public prize at the 2013 Utrecht Early Music Festival Fringe. Frey holds degrees from McGill, Mannes, and Juilliard.
Christina Hutten
Organist and harpsichordist Christina Hutten has presented recitals in Canada, the United States, and Europe. She performs regularly with Pacific Baroque Orchestra and has appeared as concerto soloist with the Okanagan Symphony, the Vancouver Academy of Music Symphony Orchestra, and the Arizona State University Chamber Orchestra. Christina is also an enthusiastic teacher. She coaches and helps to coordinate the early music ensembles at the University of British Columbia and has given masterclasses and workshops at institutions including Brandon University, the University of Manitoba, Wilfrid Laurier University, Canada's National Music Centre in Calgary, and the Tafelmusik Baroque Summer Institute.
Funded by a generous grant from the Canada Council for the Arts, she pursued historical keyboard studies in Europe with Francesco Cera, François Espinasse, and Bernard Winsemius. She participated in the Britten-Pears Programme, led by Andreas Scholl and Tamar Halperin, for which she was awarded the Loewen Prize. Christina obtained a Master's Degree in Organ Performance from Arizona State University under the direction of Kimberly Marshall and an Advanced Certificate in Harpsichord Performance from the University of Toronto, where she studied with Charlotte Nediger. She is now a doctoral candidate in musicology at UBC.
Lucas Harris
Lucas Harris discovered the lute during his undergraduate studies at Pomona College, where he graduated summa cum laude. He then studied early music in Italy at the Civica scuola di musica di Milano (as a scholar of the Marco Fodella Foundation) and then in Germany at the Hochschule für Künste Bremen. After several years in New York City, he moved to Toronto in 2004 and became the regular lutenist for the Tafelmusik Baroque Orchestra. He is a founding member of the Toronto Continuo Collective, the Vesuvius Ensemble (dedicated to Southern Italian folk music), and the Lute Legends Ensemble (a multi-ethnic trio of lute, pipa, and oud). Lucas plays with many other ensembles in Canada and the USA, including the Helicon Foundation (New York) and the Smithsonian Chamber Players (Washington, D.C.). He is on faculty at the Tafelmusik Summer and Winter Baroque Institutes, Oberlin Conservatory's Baroque Performance Institute, and Vancouver Early Music's Baroque Vocal Programme. In 2014 Lucas completed graduate studies in choral conducting at the University of Toronto, the degree having been funded by a prestigious SSHRC research grant not often awarded to performers. Upon graduating, Lucas was chosen as the Artistic Director of the Toronto Chamber Choir, for which he has created and conducted over a dozen themed concert programs. He has also directed projects for the Pacific Baroque Orchestra, the Ohio State University Opera Program, Les voix baroques, and the Toronto Consort. Last year Lucas became a Canadian citizen and is also the proud father of Daphnée (age 7).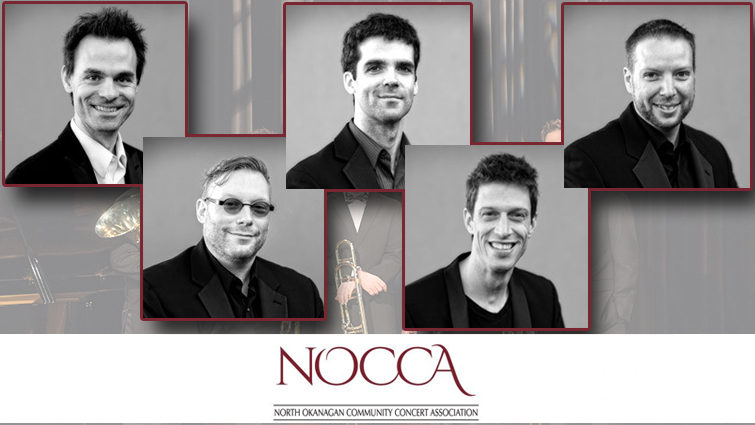 NOCCA Presents
Buzz Brass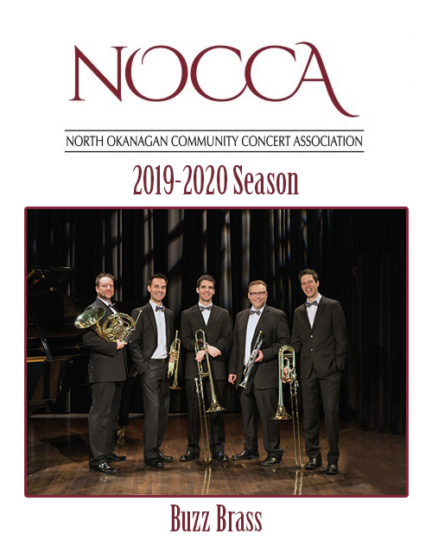 $40 Adult
$20 Youth

Since its foundation in September 2002, Buzz Brass quintet has given over 1,500 chamber-music performances and won over more than 300,000 spectators in North America, Europe and China. Listeners and journalists alike are constantly singing its praises, as attested by the numerous awards, including the 2014 OPUS Award for "Concert of the Year – Multiple Repertoire", nominations and distinctions the quintet has earned both throughout Canada and abroad for its various concert programmes, shows and recordings. In the course of its productions, the group has built up a unique repertoire for itself while the exceptional originality and quality of its performances, and tremendously energetic and humorous stage productions elevates the ensemble to be among the best brass quintets in Canada. Since its appearance at the celebrated Edinburgh Festival Fringe, Buzz Brass has been shining forth overseas. The group represented Canada at the opening concert of the 15th edition of Meet in Beijing Arts Festival—China's most important international arts festival—and is preparing new tours of China as well as the release of a new recording.

Long overdue with their return to Vernon, these five musicians who produce an orchestral-like sound despite their diminutive number will bring their program 'Famous Inspirations' to our Performing Arts stage. Buzz Brass brilliantly displays all of its musicianship with this striking repertoire from the turn of the 20th century. Inspired by folklore, literature, nature or their peers, the composers of these works have in turn been able to inspire and touch audiences through time. The quintet has you rediscover these famous inspirations—first written for piano, organ, strings or orchestra—in original transcriptions for brass. The program contains such varied works as Claude Debussy's "Girl with the Flaxen Hair" to Aram Khachaturian's "Sabre Dance", Antonin Dvorak's String Quartet #12 in F major, Fran Liszt's "Hungarian Rhapsody #2" and many more! From the classics to the planets, Buzz Brass is a force of wind to be reckoned with and presents their music as "if it had been written for two trumpets, one horn and two trombones". "Simply exceptional". Catch the "buzz" at the Performing Arts Centre, April 26, 2020 at 7:30 PM.


What the press are saying…

"A first-class brass quintet, with a likeable flair for humour and for pleasing a crowd without uttering a word."
Three Weeks Edinburgh newspaper, August 2015

"Amazing. The instruments go beyond complementing one another, they achieve the extension of one another to ensure the flow of the discourse."
Montreal's daily La Presse, November 2015

"Five very serious musicians and an MC with an art for clowning and communication. An absolute must for any music lover."
Fringe Review, August 2015

"Style and intelligence. Impossible to resist."
Le Journal de Montréal Daily, October 2015

"The music is skillful and so engagingly played as to be worth recommending to all ages."
The List, August 2015

"These five musicians are fearless! The Montreal quintet tackles major works and its rendition gives the impression they have been written for its two trombones, two trumpets and horn."

Montreal's Voir cultural weekly the magnificent brass quintet Buzz presented an unforgettable evening of musical entertainment last night. Buzz made a real connection to our Sarnia Concert Association audience with their informative and hilarious introductions, and brilliant sensitive playing. The transcription of Liszt's Hungarian Rhapsody No. 2 was astonishing. The precisely synchronized double tonguing and rapidly moving scales gave the impression of a huge concert grand piano. In contrast to this, the quintet demonstrated a delicate string-like sound with their beautiful arrangement of Debussy's The Girl with the Flaxen Hair. Gershwin's An American in Paris demonstrated a wonderful orchestral sonority. These daring arrangements are the hallmark of a mature ensemble that has found its unique quality of expression. After the concert, which ended with a double standing ovation, Buzz indicated very strongly that they would love to come back to Sarnia soon. We will look forward to their return! They are an outstanding treasure!"

David J. Nichols, Associate Composer, Canadian Music Centre and President and Chair, Program Selection Committee, Sarnia Concert Association, March 2017, October 2015