North Okanagan Community Concert Association
Diversity... and excellence
A concert series presented by the
North Okanagan Community Concert Association
Concert Season • 2023 2024
Call 250-549-7469 to book
or online at ticketseller
$150.00 Adult
$75.00 Youth 18 and under
Click Here to Buy Subscription
| | | |
| --- | --- | --- |
| Jaeden Izak-Dzurko | Tuesday, September 12 | |
| Oktopus | Wednesday, October 11 | |
| Quartetto Gelato | Tuesday, November 28 | |
| Elizabeth Lee | Thursday, January 25 2024 | |
| Adam Cicchillitti & Steve Cowan | Tuesday, April 23 2024 | |
Season Events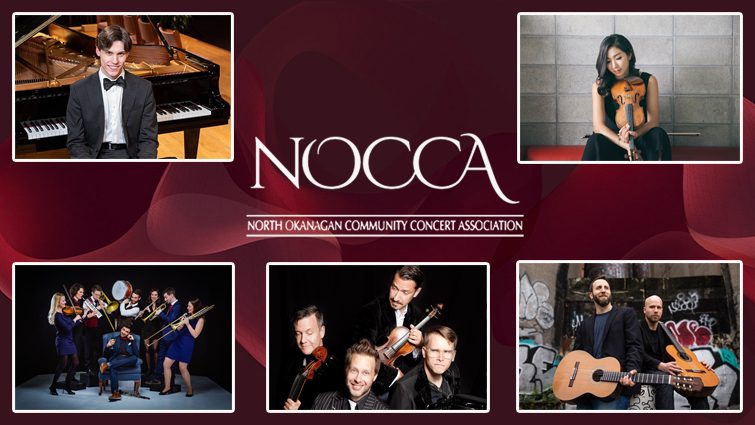 N.O.C.C.A. Presents
Haerim Elizabeth Lee and David Fung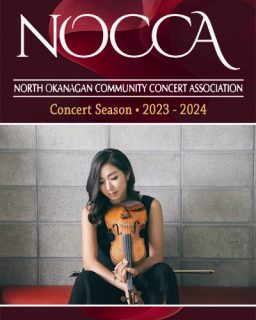 $40 Adult
$20 Youth
*includes all fees and tax
Elizabeth has developed a playing style indicative of the very essence of her personality; passionate, deliberate and often witty. Pianist David Fung will be performing with Elizabeth. He is widely recognized for "interpretations that are elegant and refined, yet intensely poetic and uncommonly expressive."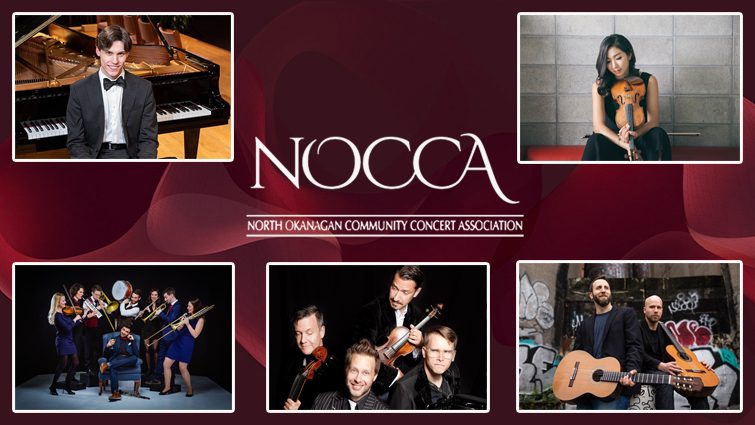 N.O.C.C.A. Presents
Adam Cicchillitti & Steve Cowan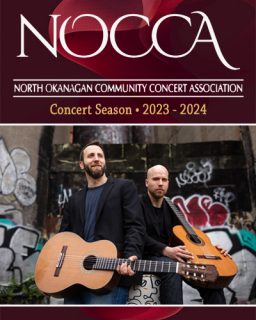 $40 Adult
$20 Youth
*includes all fees and tax
Guitarists Adam Cicchillitti and Steve Cowan will appear on Tuesday, April 23, 2024. They have worked together enough that they have developed the necessary duo telepathy that allows them to gracefully and effortlessly pass musical ideas back and forth, sometimes completing each other's thoughts, it seems, other times answering with bold new statements and ideas. The arrangements are universally brilliant; kudos to both for developing fresh repertoire for the guitar. Their sonic palette is broad and deep – the melodies are rich without being overbearing, the harmonies sometimes unconventional and unpredictable, the textures lush but still tasteful.

Subscriptions of NOCCA's five concert 2023 – 2024 season may be renewed through Ticketseller at $150 for adults ($30/concert) and $75 for youth (22 and under).

We are very much looking forward to this upcoming season. We are continuing in our efforts to return to pre-Covid numbers, so we hope you will renew your subscription, and maybe encourage a few friends to become subscribers, as well. As we enter our second full season after the pandemic shutdown, we have not gotten over our delight at being able to be in a concert hall surrounded by beautiful live music again. Here's hoping we will always treasure our appreciation for live music.