Mackie Lake House
Mackie Lake House is located in Coldstream, British Columbia. Only minutes from downtown Vernon. Paddy Mackie bequeathed the house and property to the Mackie Lake House Foundation for the enjoyment and education to the public.
This gorgeous lake house highlights the type of homes built by those who settled in the area in the early 1900s. Mackie Lake House was built on five acres overlooking Kalamalka Lake in 1910 and is an exceptional example of the type of country mansion from this time period. The moment you step into the house, you are transported back to a simpler time when life moved at a slower pace.
In our tours explore the historical elegance of times past as you learn the story of the Mackie family, the tales of the extraordinary collections preserved within this 1910 Country Mansion. Learn about the architecture, history and characteristics of this unique home and the families that lived here and discover their place in the rich history of Coldstream.
Capturing the essence of days gone by, Tea is served with fine bone china on the verandah overlooking the serene gardens and lake. Kick back and relax in a beautiful setting with your friends, your family and take some time for you.
For a magical summer evening enjoy Music at Mackie on the spacious grounds with a spectacular lake view. It is the perfect place to kick back and enjoy the sounds of summer, so join us for one or all of our outdoor concerts.
Tour, Tea and Concert tickets are available online at www.ticketseller.ca
Looking for a scenic wedding location? Mackie Lake House was voted as one of the best locations to get married in the North Okanagan by Okanagan Life readers. Private tours and teas for groups of six or more are available by appointment year round or in conjunction with your event. We provide an excellent space to celebrate special events such as birthdays, retirements, or anniversaries. Consider the Mackie Lake House for a memorable meeting or event!
Map
Upcoming Events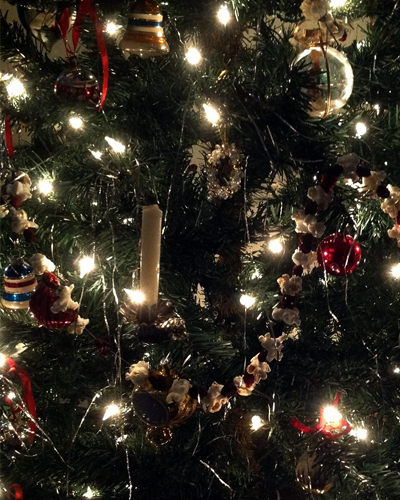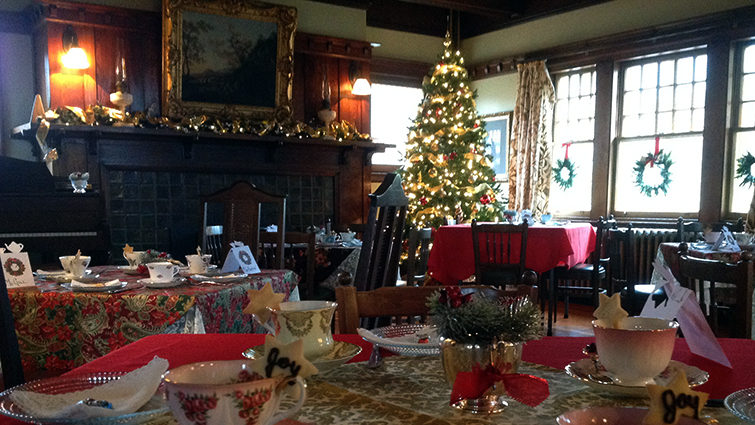 Mackie Lake House
Sat, Dec 7, 2019 At 2:00pm
Sun, Dec 8, 2019 At 2:00pm
Sun, Dec 15, 2019 At 2:00pm

NEW DATE ADDED!
It's beginning to look a lot like Christmas, so take the time to celebrate and unwind with your family and friends in this festive setting. Experience a traditional Tea with delicious finger sandwiches, tasty scones, and delightful pastries while listening to live music in this beautifully decorated historic home.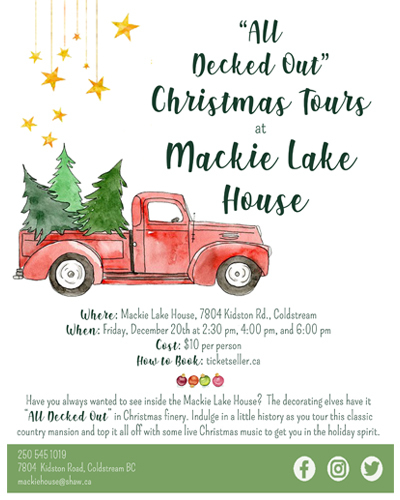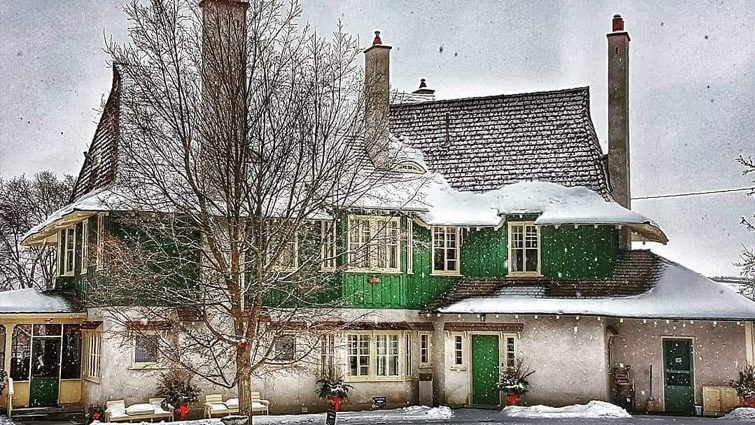 Mackie Lake House
Fri, Dec 20, 2019 At 2:30pm
Fri, Dec 20, 2019 At 4:00pm
Fri, Dec 20, 2019 At 6:00pm

Have you always wanted to see inside the Mackie Lake House? The decorating elves have the house "All Decked Out" in its Christmas finery. Indulge in a little history as you tour this historic country mansion and top it all off with some live Christmas music and a carol or two to get you in the Christmas spirit.