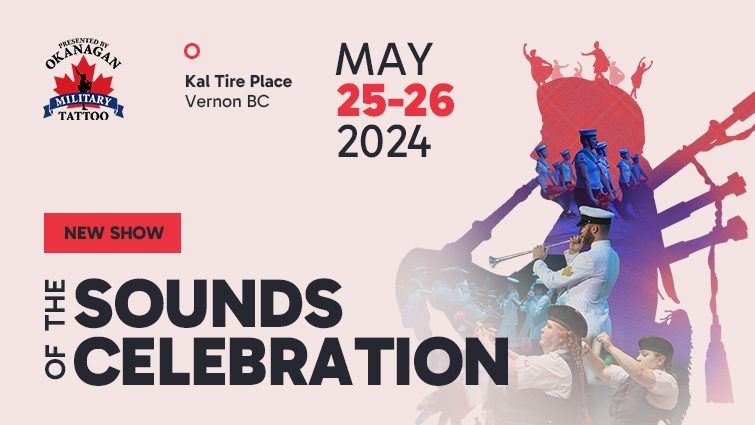 Okanagan Military Tattoo presents
The Sounds of Celebration
Harmony in Motion: A Spectacular Festive Extravaganza
Kal Tire Place
Sat, May 25, 2024 At 7:00pm
Sun, May 26, 2024 At 2:00pm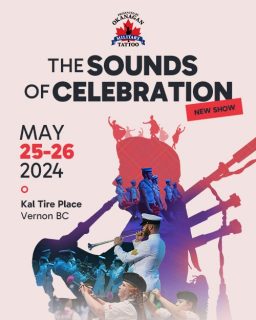 $65 Premium Sec J
$50 Early Bird Price until December 31st
Sec B to H and K to Q
$50 Adult Early Bird Price $40
$40 Senior 60+ Early Bird Price $32
$40 Veteran Early Bird Price $32
"Sounds of Celebration" is a monumental spectacle that unites the world through the universal languages of music and dance. This extraordinary event is a vibrant showcase of festive energy that transcends borders, generations, and backgrounds. With a focus on festive music and boundless energy, this event is designed to bring people of all ages together and let the rhythm of joy fill their hearts.
Experience the power of music to unite people in joy and harmony. "Sounds of Celebration" is a monumental show featuring Dancers, Musicians, Military Bands, Marching troops, First Responders and Athletes, all coming together to create an electrifying atmosphere of celebration.

Don't miss "Sounds of Celebration." Get ready to experience the sheer power of music and dance to unite, inspire, and uplift the human spirit. This is not just an event; it's a celebration of life, love, and the joy that binds us all.