Kids Series
Season Events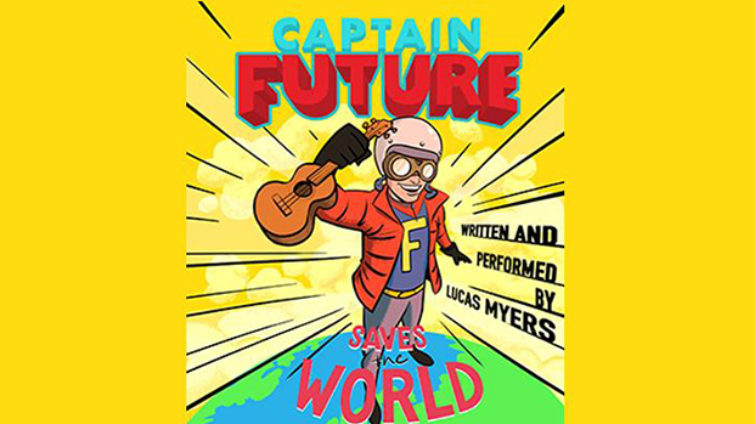 Captain Future
$12 All Ages
The Vernon and District Performing Arts Centre proudly presents Lucas Myers' production of Captain Future on Sunday, March 18 at 2:00pm at the Vernon and District Performing Arts Centre. Captain Future is the third performance in the Society's 2017/18 Kids' series.
What will happen when Dr. SamGoogApplesoftsung wipes out reading with his devious and addictive social networking video game apps? Find out when Lucas Myers of Pilot co Pilot Theatre brings Captain Future to the stage! As a last hope, Captain Future must travel back in time to save literacy in this hilarious and relevant show.
Captain Future takes audiences on an adventure through time, armed with a ukulele and the Timeswozzler 8000. With a focus on literacy, spanning from early Paleolithic cave paintings and touching on all major historical developments, the whole family will be inspired to improve and explore literacy in the present time. Myers uses song, puppetry, brilliant characterization, and of course a Shakespeare rap song, to save the day.
"Instead of being an instructor, Captain Future is more like one of the kids," (Nelson Star) says Myers. Incorporating the ideas of young audience members, kids feel as though they are part of the production and feel a sense of ownership and pride. By making it fun and relatable, the evolution of communication becomes an exciting adventure to save the world!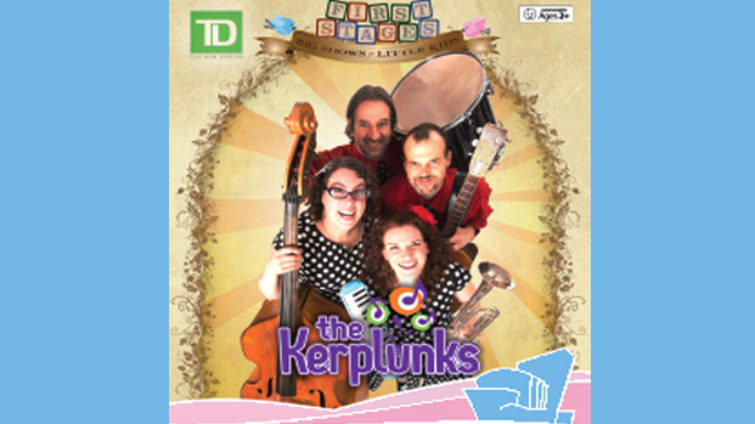 The Kerplunks
$12 All Ages
The Vernon and District Performing Arts Centre Society proudly presents The Kerplunks on Sunday, April 15 at 3:00pm at the Vernon and District Performing Arts Centre for the final show in our 2017/18 'First Stages' Series.
Engaging, colourful and high-energy, this four-piece multi-instrumental band will have the whole family up on their feet! The Kerplunks, an award-winning Canadian group of children's entertainers, bring high quality musicality and creativity together for an enjoyable educational experience.
Since their inception in 2006, The Kerplunks have released four albums and a ten-video DVD, receiving countless awards for their songwriting, including three consecutive JUNO nominations. The popular group has toured to many of Canada's highest profile events, and their successes have garnered them international recognition and CD sales around the world. Featuring Dinah D on Upright Bass and Vocals, Jocelyn Hallett on Keyboards, Horns and Vocals, Aaron Cadwaladr on Guitar and Vocals, and Phil Wipper on Drums, the multi-talented group has unrivaled stage presence that gets audiences of all ages singing along.
Bringing to Vernon their fourth studio album Pants & Mammals, The Kerplunks make everyday items and ideas hilariously fun! Each of their catchy songs have participatory actions and sing-along moments for our 'First Stages' audience to enjoy. Dubbed our 'No Shushing Season', parents are encouraged to let their little ones dance, sing, and chat along with the performers without the usual stresses of keeping quiet in theatre seats. Bring the whole family for an afternoon of fun and let loose
Somebody Loves You Mr Hatch
$12 All Ages
The Vernon and District Performing Arts Centre Society proudly presents Axis Theatre's production of Somebody Loves You Mr Hatch on Saturday, May 5 at 2:00pm at the Vernon and District Performing Arts Centre. Somebody Loves You Mr Hatch is the final show in the Society's 2017/18 Kid's Series.
Set in a friendly 1940's town, Somebody Loves You Mr Hatch follows a lonely man whose job is attaching aglets to shoelaces at a shoe factory. But on Valentine's Day, his world is turned upside down when he receives a mysterious package that reads "Somebody loves you". Determined to discover who sent him the package, Mr. Hatch finds himself on an adventure filled with all the fun parts of life he had once ignored. This heartwarming story explores themes of loneliness, friendship, and the importance of change.
Based on the children's novel by Eileen Spinelli, Somebody Loves You Mr Hatch uses beautiful puppetry and simple costumes to communicate a story that touches audiences of all ages. Spinelli is a poet, writer, teacher and mother with a focus on meaning and morals for children growing up. Spinelli's Somebody Loves You Mr Hatch was awarded a Christopher Award, given to books "which affirm the highest value of human spirit".
Geared to young audiences, Axis Theatre has been presenting original works for over 40 years. Axis Theatre's dedication to providing fresh and memorable productions to audiences of all ages has won them 17 Jessie Richardson Awards, a Betty Mitchell Award, and a Drama Desk Nomination for Unique Theatrical Experience. Somebody Loves You Mr Hatch is directed by Axis Theatre's Artistic Director Chris McGregor and features performers Jeny Cassady, Mika Laulainen and Sarah May Redmond.
The stylistic puppetry and characterization of performers in this touching story will have the whole family falling in love with Mr. Hatch!